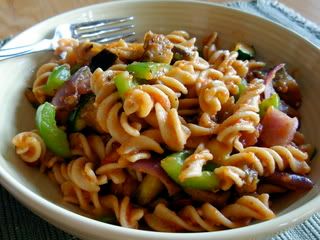 This is one of our springtime creations. We created a veggie rub out of Italian spice, red pepper flakes, freshly ground pepper and red garlic sansel and mixed it in with green pepper, zucchini, garlic, onion and a ton of eggplant. We grilled the vegetables on the bbq and then tossed them with some organic kamut pasta and a tiny bit of tomato sauce...awesome!
Eat Your Eggplant!
Excellent source of
potassium
,
dietary fiber
and copper. Also a good source of
vitamin B6
and folate (which helps regulate red blood cells and prevent anemia, promotes skin cell production and has been proven to aid in the prevention of osteoporosis and Alzheimer's). As an added bonus, eggplant is also rich in antioxidants and is referred to as "brain food" based on the antioxidant nasunin found in the skin of eggplant - protects the lipids (fats) in brain cells which in turn helps protects the cells themselves and may even play a key role in preventing the cellular destruction that can lead to cancer. Be a cancer-free smarty pants and eat your eggplant!