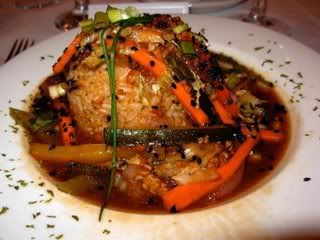 We went to celebrate the marriage of a beautiful couple last night, and low and behold, I was surprised with a special 4-course vegan meal. Vegetable consomme with raw veggies to start, followed by the cutest garden salad that you ever did see (I really wish I took a picture), the deliciously spicy stir fry pictured above, and a fresh fruit plate for dessert.
Weddings and other major social events are a difficult time for us vegans. While I am strong in my convictions, I do worry about coming across as rude and ungrateful when refusing the food that is provided and usually feel horribly awkward when sitting at a table where everyone but me is eating. So, it is always such a wonderful surprise when someone goes out of their way to ensure that I'm included, regardless of these dietary convictions. It is a thoughtfulness that I am so grateful for.
And it's also super awesome when the food they provide is as delicious as it was last night. Congrats to my friends as they begin their journey together!