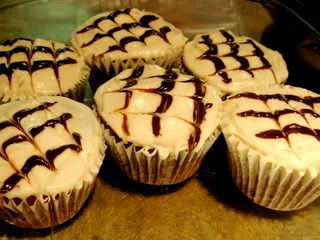 My sister-in-law kindly invited me along to a women's cottage retreat in Lake of Bays, in the beautiful Muskoka region of Ontario. Each cottager was responsible for one meal during our four-day stay, and I was in charge of a light meal for our first night up north. I made
tempeh muffaletta
and a batch of cupcakes. My original plan was to do up a batch of
mucho margarita
cupcakes (to go with the theme of way too much alcohol in the span of a couple days), but before we left I learned that one of the women coming along has a gluten intolerance.
While I am not gluten-free myself, I can easily get into that mindset because just like vegans, gluten-free people have to be compulsive label readers and spend meal time answering the "Wait you don't eat WHAT?!" questions from strangers. I'm sure she would have been fine having to sit out on the cupcakes and having something else for dessert, but while becoming vegan I learned the simple joy that comes along with feeling included during meal time activities and the importance of ensuring that everyone at the table is able to enjoy themselves regardless of dietary restrictions or preferences.
And, the truth is, we could all use a little less gluten in our diets and so I'm always itching to experiment with diversity in the kitchen. We cook with a lot of rice pastas, sometimes use rice tortillas for our mexican dishes. Like veganism, gluten-free diets are on the rise and so every month there seem to be more and more gluten-free products on the market - a great alternative to your standard meal plan every now and again to give your digestive system a bit of a break.
I don't know a thing about the science of baking, but when it comes to gluten-free baking, you have to use a bunch of different flours to ensure all the bases of regular wheat flour are covered (thank you Vegan Cupcakes Take Over the World). So, these cupcakes use tapioca, rice and quinoa flours and they turned out great (plus you don't have to worry about over-beating the batter because there is no gluten). I just made a cream cheeze vanilla frosting with and added some melted semisweet chocolate for a little colour (the cool designs are all Paul, I can't take credit for that).
Other than being a bit flakier and prone to crumbling than regular wheat-based cupcakes, they were a hit up at the cottage and I'm excited to try the vanilla gluten freedom cupcakes next.