It's summer, so we've been trying to do two things 1) eat lighter and 2) not cook in the house. Of course there's a lot of BBQ options, but the weather around here has been really rainy and miserable for the majority of the summer. Funny, I don't recall moving to Seattle, but that is sure what it feels like.
However, I'm trying to cut Mama Nature a little slack, being that we've been abusing her quite some time now...I'm sure my weekend patio plans are the least of her concerns.
Last week on a day that was *finally* a bit sunny, I found myself with an abundance of fresh Ontario "summer squash" (zucchini)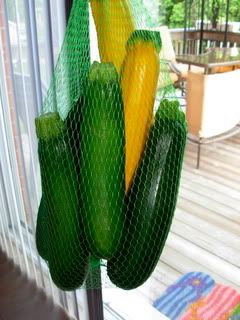 and my most favourite way to eat said zucchini is fresh off the grill. I was clicking through
Susan's
blog and saw her recipe for stuffed zucchini. I don't have an apple corer and I am not patient enough to carve out the centers as neatly as she did, so we opted for the less classy zucchini "boats". The stuffing is made up of basmati rice with fresh parsley, basil and oregano from my garden. I normally buy brown basmati rice, but it was nowhere to be found in our under-construction supermarket. I reluctantly took a bag of white. It's okay, but I much prefer the brown...it takes longer to cook and it's firmer than the white version, but it is less starchy and I find it to be much easier on the system than the white. Hopefully I will find some california brown basmati again sometime soon. Either way, the zucchini boats cooked up great on the grill
and we ate them with spicy garlic hummus and fresh cut pitas. It was a nice light meal and they turned out great, but we are compulsive face-stuffers and so were starving about an hour later. Sigh... the effort was at least there, right?
Eat Your Zucchini!
The traditional nutrients provided by summer squash are equally impressive. Our food ranking system qualified summer squash as an excellent source of manganese and vitamin C and a very good source of magnesium, vitamin A (notably through its concentration of carotenoids, including beta-carotene), fiber, potassium, folate, copper, riboflavin, and phosphorus.
Many of these nutrients have been shown in studies to be helpful for the prevention of atherosclerosis and diabetic heart disease. Summer squash's magnesium has been shown to be helpful for reducing the risk of heart attack and stroke. Together with the potassium in summer squash, magnesium is also helpful for reducing high blood pressure. The vitamin C and beta-carotene found in summer squash can help to prevent the oxidation of cholesterol.
In research studies, extracts from squash have also been found to help reduce symptoms of a condition occurring in men called benign prostatic hypertrophy, or BPH. In this condition, the prostate gland becomes problematically enlarged, which can cause difficulty with urinary and sexual function. Particularly in combination with other phytonutrient-containing foods, squash may be helpful in reducing BPH symptoms.
[excerpt from
whfoods.com
]