Shockingly, the weather somewhat cooperated for our camping trip this past weekend. I don't think I've been on a camping trip that hasn't had ridiculous amounts of rain since the summer of 2002. Most definitely a welcome change!
I am pretty sure I gained a solid 10 pounds over the last few days, but it's so hard to care. A weekend away was just what my soul needed while I'm in the battle of my life with my Master's thesis.
I made the peanut butter cupcakes in Vegan Cupcakes Take Over the World to bring along. And then proceeded to forget about them while the ice melted in our cooler...resulting in extreme sogginess. Truthfully, I wasn't that keen on them to begin with..which is surprising because peanut butter is one of my top five favourite unnecessary condiments. I just didn't find them to be very sweet or very peanut butter-y. There's a good chance I fudged up the recipe though, because I made them at 11pm the night before we left for the beach.
I'll tell you what I did love though ... s'mores!!!! Oh s'mores, where have you been all my life?! Seriously, before this past weekend I had never in my life had a s'more (vegan or otherwise). That I can recall, anyway, but my memory is fuzzy in my old age. Standard issue marshmallows are obviously off the menu because of
gelatin
but praise vegan innovation,
Sweet & Sara
make a delicious vegan marshmallow!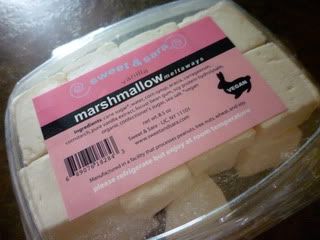 Obviously I am slightly biased and may not remember what a regular marshmallow tastes like, but imo these are
better
. They are not exactly cheap though, and by no means good for you...but a good way to participate in campfire fun. Look at that s'more: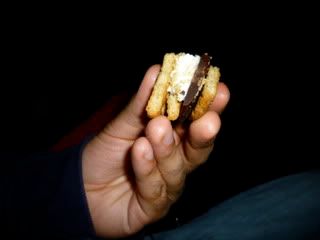 om nom nom nom.
And finally, for those who are wondering, the
pinto bean hotdogs
I posted about a few weeks ago cooked up wonderfully on an open flame:
Oh man, officially in detox mode for a few days. Good weekend...look at that view!