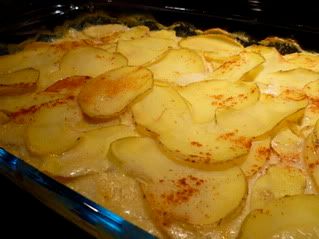 I know that turning on your oven is pretty much the last thing that you should be doing on a hot summer's night. But when cravings call...you gotta answer.
I love summer but when August hits I start to get excited for fall, which is really and truly my most favourite season. We eat a lot of potatoes in the fall...and while I'm still basking in the hazy laziness that is August, I thought I'd jump start the comfort food.
I had
this
recipe saved from
Fat Free Vegan
and decided to give it a go the other night. One thing I really like about the recipe is that Susan precooks the potatoes a bit before...which means that the dish only had to be in the oven for about 25 minutes, as opposed to the standard 50-60 minutes needed for scalloped potatoes. Much appreciated on a hot August evening.
I am terrible at slicing vegetables...I'm really sloppy and lose interest quickly. For scalloped potatoes, there needs to be some uniformity among the potato slices. Knowing that my not-so-great knife set could not handle this, I borrowed a mandolin from my mom...a tool that came from another continent and a time long before my birth:
Paul pretty much begged me not to use it. You see, I am clumsy enough when it comes to regular, modern tools...I have cut myself with a butterknife. A BUTTERKNIFE, people. This mandolin is
sharp
despite having what I can only imagine as 30 years of solid slicing under it's belt (blade?). And there are no grippers or safety features like you find on
modern, plastic mandolins.
No sir .. this is hardcore, straight from the old country.
Evidently the gene pool is diluted and I am missing the hardcore-ness of my ancestors, because I most definitely sliced my thumb open. On the first potato, actually.
I motored through though...very carefully...wasting a
lot
of potato because it was getting too close to the end and I thought I might sustain further injury.
While this dish was delicious, I should probably hold off on making it again until I can find slicing equipment that I am more capable of operating. Does anyone know if Fischer Price makes a mandolin? Anyone?