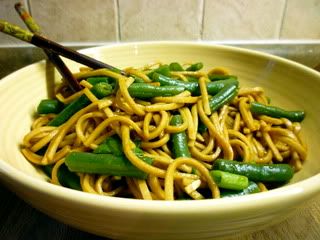 My friends, we are in those glorious days of mid-summer when just about everything is in season.
The early-summer vegetables are winding down, but there are a few of the last crops of asparagus, scallions and strawberries left to be devoured. And now the late-summer crops are starting..enter diverse squash, cobs of corn and fresh Ontario-grown field tomatoes!
I am also patiently awaiting the fruits of my labour in my own little garden, as I've got dozens of little green tomatoes sprouting all over the place. Late August will be characterized by many a toasted tomato sandwich, I'm sure.
I also tried to grow green beans, and it was an epic fail. The plant produced two beans. Two. One of which was pecked to pieces by a bird. Fail. Big, fat, organic fail.
Have no fear, a local farm has come to my rescue and for a small fee ($3 for 3 meals worth of beans...not too shabby) has supplied our green beans this summer. Although they are easier to come by in June and July, there are still lots of green beans still kicking around here in southern Ontario.
Green beans are my favourite side dish in the summer...boiled a bit but still crunchy, topped with freshly ground pepper and nothing else. So many folks drench them in butter first, but that concept is lost on me. They are good just as they are, with a tiny bit of seasoning...good enough to even replace french fries at bbqs in our house.
Sometimes, we even let green beans be the star of the show. After obtaining a basket-full at the market, I decided to try out this recipe from Nava Atlas'
Vegan Express
. She suggests using soba, but all I had was udon...it really doesn't make a difference, IMO. I just prefer spelt to buckwheat, so I buy Sobaya Spelt Udon and use it for every Asian-inspired noodle dish that we rock in our kitchen.
This is by no means a fancy meal. It uses standard ingredients (soy sauce, hoisin, etc.), nothing crazy or awe-inspiring. But, on lazy summer nights after a long day at work you don't want the crazy. You want tasty, somewhat nutritious and above all QUICK, so you can get back to solving the world's problems. Or a good book. Or, in our case, bad reality tv in the form of Big Brother.
This was done in 7 minutes, and was so tasty that I literally licked my bowl when I was done. Literally.