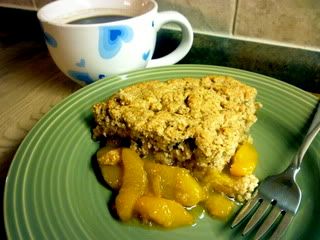 aka Late Summer, meet Early Fall
I don't know how it is everywhere else in the world, but around here it's cheaper to buy a basket full of peaches than to buy two people's worth. This creates a bit of a problem around this time of year, as we have peaches coming out of our ears. At this point I'm getting kind of sick of them, as we're on our third basket for the summer..but I couldn't resist squeezing one more in before peaches are gone for yet another year.
We ate a couple and then decided it was time to do away with the remainder. I had such high hopes for myself that I was going to bake a pie from scratch for the first time in my life...or perhaps try Susan V's
sugar free peach muffins
but alas, the cobbler won out because of the ease with which it goes from raw ingredients to digesting nicely in my belly.
However, last night I was quite content wrapped up in blankets watching
Big Bang Theory
dvds on the couch and thus was too lazy to make even a simple cobbler. Paul made it...I give credit where credit is deserved!
The weather here has been so strange. You can still rock shorts and t-shirts in the afternoon, but the second that sun goes down you'd swear it was late October. Our cobbler was done around 9 when it was already quite chilly, so we decided to do up some Mexican hot chocolate to go with it. Nothing feels more fallish to me than a cup of piping hot cocoa, and serving it up with the peach cobbler made for a nice juxtaposition of the seasons.
And if you haven't ever had hot chocolate the Mexican way (sprinkled with chili powder), I highly, highly recommend it.
Peach Cobbler

3lbs of fresh peaches, thinly sliced
1/2 cup organic or beet sugar
1/2 tbsp corn starch

1 1/2 cups whole wheat flour, sifted
1 1/2 tbsp baking powder, sifted
1/4 cup organic or beet sugar
A hearty sprinkle of salt
6 tbsp Earth Balance Spread
1/2 cup rice or other nondairy milk

1) Preheat the oven to 375F

2) To make the peach filling: place the peaches and sugar in a saucepan over medium-low heat. Stir occasionally. Once the sugar is dissolved, add the corn starch and stir to combine. Cook until the mixture thickens a bit (8-10 minutes or so).

3) Lightly grease a pie plate or casserole dish and pour in the filling.

4) To make the topping: Using a mixer, food processor, or your two hands, combine the flour, baking powder, salt and sugar until well mixed. Add the Earth Balance and process until the mixture is crumbly and add the milk very slowly until the mixture holds together (may need a tiny bit more or a tiny bit less, depending on how it feels). The mixture should hold together but not stick to the sides of the bowl.

5) Pull and flatten pieces of the dough with your hands and place on top of the filling, overlapping where you can (but if there are small portions of the peach peeking out, that's okay). Sprinkle with additional sugar, if you'd like, and bake for 35-40 minutes, or until the top is golden brown.

Mexican Hot Chocolate

3 cups of rice (or other nondairy) milk
3 tbsp cocoa
6 tbsp raw cane sugar
A good pinch of cinnamon
A good pinch of chili powder

Combine all ingredients in a saucepan and warm over medium heat. Stir often until heated through.
P.S. A quick thanks to Clare of
Accidentally, Kle
for helping handle some administrative details with regard to This is Vegan over this past weekend. Much appreciated... be sure to check out her blog!