Yesterday was my...(sigh) 26th birthday. I have never really been a fan of birthdays, even as a kid...something about the passage of time gets under my skin and makes me lose sleep at night. One of my many psychological dysfunctions.

It was kind of nice though, as Paul and I both had the day off and so spent it a bit indulgently. I thought I would share some of the deliciousness that came our way.

We went and had lunch at The Duke Street Muse, a vegetarian cafe. I had the vegan quesadillas: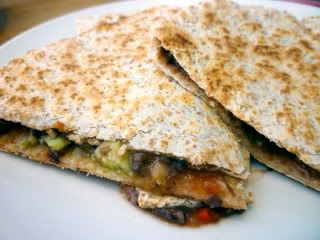 Paul also tried their vegan chili and said it was absolutely incredible...I can't wait to get that next time we go. We were really impressed by not only the quality of the food but the kindness and enthusiasm of the staff that was working and will definitely return.
Duke Street Muse
6 Duke Street
Kitchener, ON, N2H1A3
(519) 342-0550
For dinner, Paul arranged a little gathering of our friends at
Ben Thanh
, a vietnamese/thai restaurant. I had the crispy gluten rolls to start: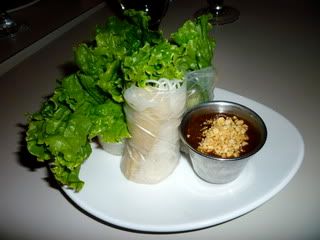 And then the thai green curry vermicelli bowl for my main:
And, my dearest husband slaved all day in the kitchen to make me chocolate mint cupcakes (recipe found in Vegan Cupcakes Take Over the World) which served as a birthday cake in the restaurant: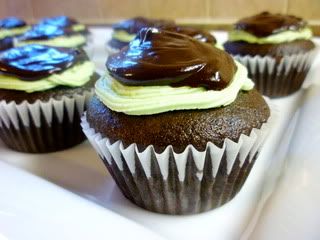 Ben Thanh
500 Fairway Rd S
Kitchener, ON N2C 1X3
(519) 742-3338
Having a wonderful birthday with great food and great friends definitely makes the passage of time that I find so unsettling a bit more easy to manage. Thanks to everyone who came out or sent well wishes!