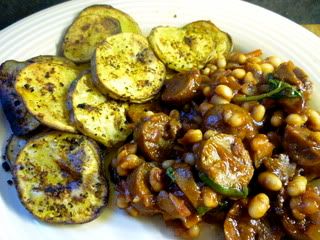 As of late, dinners have featured a random mishmash of things that I want to clean out of my cupboards. Partly because I'm busy, and partly because I like to take inventory of what's in the cupboards every now and again, usually when the seasons change, purging what's old and questionable and stocking up on new stuff.
Currently there are several tupperware containers full of homemade bbq sauces lining my freezer; different flavours made over the summer and frozen for easy access when the mood for grilled tofu struck but didn't all get eaten. We ate so much grilled tofu over the summer that I'm just not feeling it in the fall, preferring to instead indulge in hearty comfort food that warms up the house while it's cooking.
I don't want these sauces to succumb to freezer burn over the winter (plus I miss using the glass tupperware they have been stored in) so I've been thinking us ways to use what's left without bothering with the bbq. Flipping through
Vegan Express
I noticed Nava's recipe for a baked-style bean recipe that uses tofurky sausage (Paul's fave) and any flavour of bbq sauce.
I went with one of the more smoky of the frozen bbq sauce varieties in my freezer. The recipe is fairly straightforward...what you see is what you get. My favourite side for a bean dish is a crispy potato dish and rather than making fries (I find making slicing potatoes into sticks SO tedious) I decided to just bake up some spicy potato slices.
I sliced them thin enough that they were almost like chips, mixed in a bit of oil so that it was well-dispersed, sprinkled on some
pueblo bean dip mix powder
from
Epicure Selections
and baked them for about 20 minutes at 450F, flipping them halfway through.
I got the pueblo bean dip mix through an Epicure home party awhile back, and while it's technically supposed to be mixed in with oils or sour cream to make dip for chips and veggies, I use it as a spice in mexican or southwestern dishes instead. It's completely vegan and is just a mix of powdered onion, red and green bell pepper, garlic and some spices. I use it instead of/in addition to regular chili powder in things like
enchilada casserole
and
crockpot chili
to give them an extra boost of flavour.
I love how quickly everything was done. I know lately my postings have been about super fast and easy foods; you can tell I'm feeling a bit of a time crunch lately. I promise I will get back to attempting more elaborate things (next week I am cooking a full Thanksgiving dinner for the very first time - alert the fire department!), but for now, three cheers for simplicity.