If you want your home to be overcome with the undeniable smell of Fall, roast a squash.
I worked later than usual last night and so Paul started roasting an orange acorn squash and a couple of yams before I got home. When I got out of my car I
thought
I smelled something delicious but then I figured I was just hallucinating from exhaustion - because how on earth could I smell it all the way in the garage?!
It turns out I actually
could
smell it, ever so mildly, because when I opened the door to the house I was hit by the warm fuzzies. Warm, fuzzy, autumny aroma (I seriously, I can't think of a better way to describe it - I used to be an English major and I use "warm" and "fuzzy" to describe SMELLS...oy, my old profs would not be amused).
I found a recipe for autumn puree in
Eat, Drink and Be Vegan
months ago that I completely forgot about until yesterday, so that is what the lovely roasting fall treats turned into. With a side of very quickly completed blackened tofu, we were in pajamas and eating in front of our favourite tv shows in no time.
And, if roasting squash and potatoes doesn't provide enough of a fall smell for you, I highly recommend an autumn-scented soy candle. My personal favourite is called "vanilla pumpkin":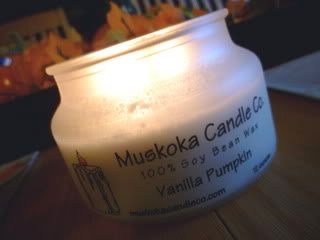 Soy candles are pretty much the greatest thing ever. Traditional paraffin wax candles are petroleum-based and release several different kinds of known-carcinogens into the environment - not to mention that they often contain beeswax and therefore they are not vegan. Soy candles burn cleanly and naturally and are a far greener choice than the popular paraffin as they are biodegradable and do not rely on non-renewable resources. I highly recommend
Muskoka Candle Co.
, a company not too far from my neck of the woods. Their vanilla pumpkin is to die for - as is their "Muskoka Winter" scent, my favourite for the winter months.