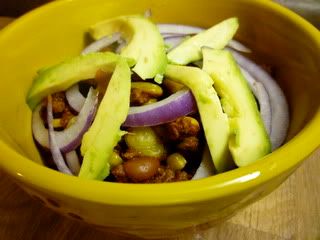 I love crockpots. Love them. On Tuesdays and Thursdays I work later than the average bear and so it's nice to have dinner done...you know, so we're not eating dinner at 10pm.
I don't have much Crockpot Creativity. Honestly, I don't know much about them...I know people make these crazy elaborate meals using them, but I have no idea how. Looking up vegan crockpot recipes is on my list of things to do, but for now I really only slow cook chili. Not that there's anything wrong with chili!
I normally make a pretty basic chili...ground round, baked beans (Bush's Best Vegetarian are my fave - why oh why don't they sell them in Canada?!), kidney beans, bell pepper, onions, carrot, sometimes corn and spices. It's plain, but we like it. After years of supporting such a plain chili I decided today it was time to try something a little different, so I dug up a recipe I found in the
Vegetarian Times
.
My favourite part of it was the lima beans and the avocado I topped it with. I do think it could use more beans though, either a doubling of the pinto beans or mixing it up with kidney or black (although I'm aware it would then be inaccurate to call it a "New World Chili"). Next time I make it I think I'll only use half the salsa it calls for and throw in a can of baked beans (because I lurveee baked beans). Honestly, I see the picture Veg Times posted and it looks like there are way more than 15oz of pinto beans in there. Just sayin'.
We didn't mind it...it was nice to come home to dinner already done so that I could focus on the awesomeness that was The Office wedding. I have officially called it - best TV wedding of all time. And no, that's not just because John Krasinski is one of my boyfriends.