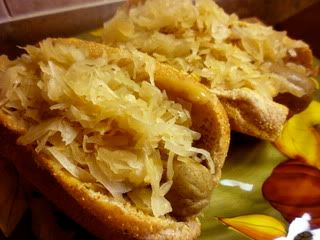 Around here, the most salient of all fall celebrations is
Oktoberfest
. Our neck of the woods boasts the second largest Oktoberfest in the world (next to Munich, Germany) and it is a week-long event that I eagerly anticipate every year. Though not technically a holiday, I have no problem saying that it is
my
favourite holiday.
Our little city was founded by German immigrants and in 1969 the first annual Oktoberfest was launched. It is modeled after the Munich-based Oktoberfest, which is a celebration of fall and the harvest (and probably something else that I don't know about). The opening ceremonies are held the Friday before (Canadian) Thanksgiving with the tapping of the keg in our downtown core, noting the start of 9 straight days of celebrating with friends, funny hats and a whole lotta beer. Families and kids can get in the act too...growing up we used to pile into the school gym with
Onkel Hans
and the yearly-crowned Miss Oktoberfest to do the chicken dance, plus there is a big Thanksgiving Day parade that goes through the downtown area.
When I was younger I was able to go out polka dancing at various festhallen most nights of the celebration. These days, my body and my pocketbook have brought it down to two nights...this coming Saturday, and next Saturday for the closing night of Oktoberfest 2009.
While beer and polka are the main draws to Oktoberfest, food is also an undeniable attraction. Festhallens sell traditional German fair (read: not vegan) but that doesn't mean that we can't take part. This is my third Oktoberfest as a veg*n and so I am well-versed in veganizing Okt fun so that I don't have to feel left out.
Oktoberfest sausages and schnitzel-on-a-bun are the main features during Oktoberfest. Luckily,
Turtle Island Foods
makes a wonderful mock beer brat that is the PERFECT substitute for traditional Oktoberfest sausage. As such, there are really only four things you need to make an Oktoberfest meal fit for a vegan: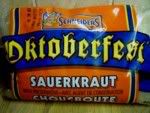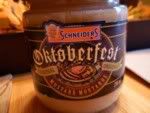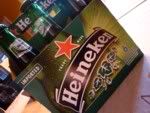 Beer brats, Sauerkraut, Oktoberfest Mustard and Heineken.
I cannot even begin to articulate how incredible Oktoberfest Mustard is, so if you are thinking of skipping it I highly urge you not to. Because we are so big on Oktoberfest it's actually available year round here, but I would imagine it is a seasonal product in other areas. If you can't find it (which is unfortunately highly likely) you can
make your own
. But, whatever you do, don't skip out on it!
Sauerkraut is not for everyone..I'm not the biggest fan of it and usually skip that part, but Paul refused to let me post this entry without including it, as it gives the sausages their 'from the festhallen' feel. The Heineken is just for fun, but can easily be skipped because the sausages are already cooked in microbrewed beer...we just like to fry them up in a bit of Heiny to really bring out the taste: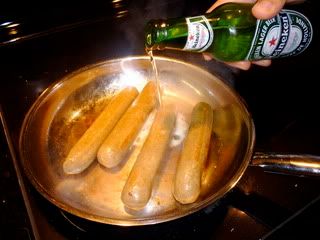 However, if you do decide to select your own beer,
make sure it's vegan
.
I tried to wait until Oktoberfest actually started (this coming Friday) before making this meal, but we just couldn't wait. Not going to lie, we'll probably make it a couple more times before the fest is through...there are a couple from-scratch beer brat recipes circulating online that I would love to try my hand at if I come across some extra time over the next week.