I stumbled upon this recipe while lurking the adorably named
It Ain't Meat, Babe
blog, just as I happened to have half a can of pumpkin puree slowly going bad in the fridge. The recipe is found
here
.
As I have mentioned numerous times, I am really not big on the whole breakfast thing and I'm especially not one for a super sweet breakfast. For me, these pancakes make a great dessert or midday snack item throughout the autumn months. They are also a really, really great way to do away with odds and ends of pureed pumpkin that seem to collect in the refrigerator following Thanksgiving.
FYI, they go wonderfully with piping hot apple cider following an afternoon of fallish activity, such as a hike through a brightly coloured forest: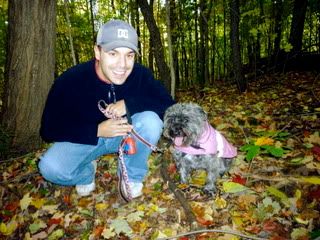 [Paul and Dora; Oct. 16/09]
or an afternoon picking out pumpkins at the pumpkin patch: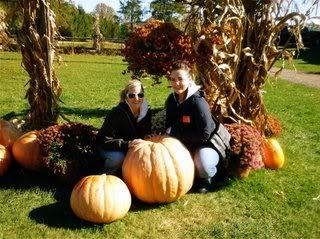 [Me and Lisa; Oct 18/09]
We didn't have much of a summer here in southern Ontario and I was worried we wouldn't have much of a fall either (for a couple of days there it felt more like winter than autumn), but the sun is showing her beautiful face yet again, hallelujah! I hope you get a chance to enjoy the fleeting serenity that is fall. Around here there's usually only a couple weeks in between the first changed leaves and the completely bare trees. As you can see by my incessant autumn-themed postings (and the aodrable Halloween background that now spruces up this blog), I am wildly in love with this time of year. I hope you're get the chance to take advantage of it too.