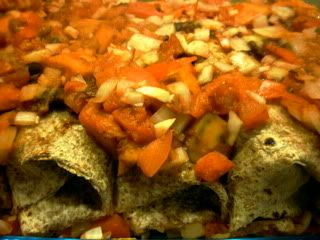 A couple months ago I blogged about some difficulty I was having with
Vegan Planet
and finding recipes that we liked enough to make second time. After the blog was posted I received an email from Robin Robertson, the author of Vegan Planet, encouraging me to continue trying samples from the book.
I decided to give these sweet potato enchiladas a try the other night, because I really didn't like the way things ended between me and Vegan Planet. It felt like a bad breakup, really. Me, the demanding icequeen refusing to see how hard it was trying to make me happy, offering me the world in the form of SO many diverse options and me turning up my nose and looking the other way. I'm like that character in pretty much every romantic comedy that everyone throws their popcorn at.
Since enchiladas are in my Top 3 foods of all time and I also happen to have an obsession with sweet potatoes, I figured this would be a no-miss meal.
Instead of using regular chilis I used chipotles in adobo. Instead of using salsa I just coated the bottom of the pan and the top of the enchiladas with freshly diced onions, garlic and tomatoes (and a couple more chipotles - if you haven't noticed yet, we like things SPICY!). I know a lot of vegan versions use soy cheese as well, but I opted out on that too and I think next time I will sprinkle some avocado on top in the last couple minutes of baking, because avocado is always a good idea.
We were very, very pleased with the results, which tasted even better the following morning for breakfast. Using the chopped onions, garlic and tomatoes in lieu of salsa gave the enchiladas a really fresh taste (although I'm sure it's great with the salsa as well). The fresh veggies coupled with the sweet potatoes gave an earthy harvest feel to a southwestern staple that you most likely don't associate with the farm.
Be forewarned, this meal definitely falls into "messy but marvelous" category, as we (and our placemats) were covered in sweet potato, black beans and chopped veggies before the meal was done. That's half the fun, though.. it means the meal is too good to eat carefully.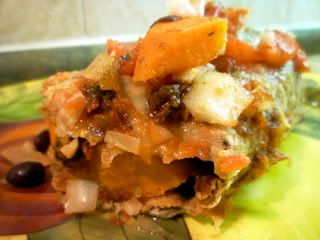 And so, the drought is over - I officially retract my previous statement about Vegan Planet. We will be making this one again!