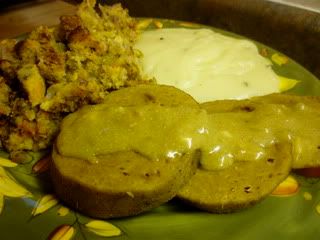 Yesterday was Thanksgiving here in Canada, and the husband and I found ourselves with no family meals to go to this weekend. While it is a shame that we didn't get to do the family thing, I was really excited at the prospect of making Thanksgiving dinner at home, something I never get to do because we are usually so stuffed and exhausted from various family events. And so, yesterday after we got home from freezing our butts off at the
Thanksgiving Day Oktoberfest Parade
we got to work in the kitchen.
Obviously, a tofurky was on the agenda. We've done the boxed ones a few times since my journey into a veg lifestyle in early 2007 and it's not that they're not good, I just wanted to make one at home without the preservatives and without the pre-made stuffing (I like my own).
I recently discovered
Everyday Dish TV
, an online veg*n cooking show (seriously, how did I not know this existed?!) and watched the "how to make a vegan turkey" clip. I immediately decided this was something that needed to be tried, and so it was kind of a blessing in disguise when we realized we had nowhere to be on Thanksgiving day.
Homemade tofurky (this is an inaccurate title because there is actually no tofu involved AND "tofurky" is a brand name, but I think it's cute and I don't like referring to it as turkey) is made with wheat gluten (
seitan
urkey?!), rolled into a cheesecloth, boiled for an hour or two and then (optionally) roasted to crispy up the outside.
In the how-to
video
, the chef wraps it in phyllo dough before baking it, which we did not have. So instead, we rubbed it down with a bit of
Earth Balance
and a smidge of poultry seasoning, and baked it at 350F until the outside looked golden and crispy (about 25 minutes).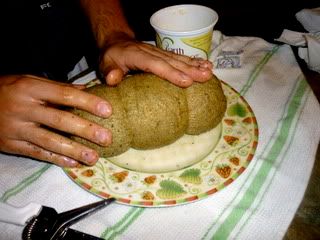 It turned out so good! (And thank you to Paul for being my "hand model" for this project).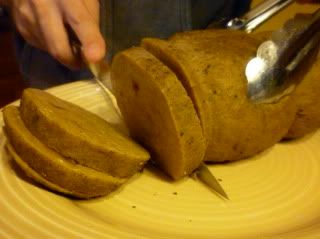 For sides we had creamed mashed potatoes, onion gravy and cornbread stuffing. The stuffing was made with a recipe found at
MyVeganCookbook.com
and it was really good, just not as "cornbready" as I imagined (or as it looks in that blogger's picture). I most likely screwed up somewhere along the line, but I think next time I'll just make a little more cornbread and use a little less whole wheat bread to see if that helps.
And so we had a lovely little Thanksgiving feast pour deux while having a Friends Thanksgiving Marathon (all 9 Thanksgiving episodes of Friends in a row - a Thanksgiving tradition at our place).
And for dessert...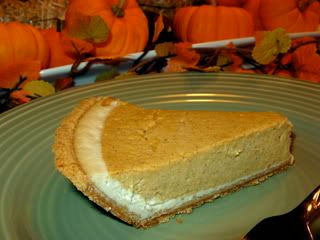 Pumpkin Cheezecake
from
Fat Free Vegan
, a recipe I first tried last year around this time and fell in love with!
Sorry for the crappy quality of these pictures...I was not at all interested in fussing with the camera; I just wanted to eat!
Hope all you Canadians out there had a wonderful Thanksgiving...I'm off to a slow start on this Tuesday. Getting ready for another work week is exceptionally difficult after a really great long weekend.