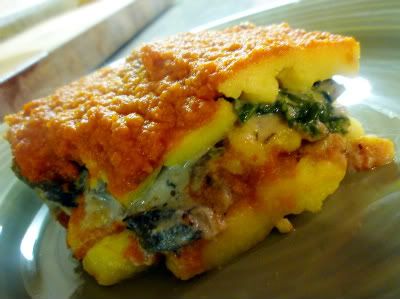 I have been trying to learn to love kale. You can't argue with
this kind of nutritional gusto
. Vitamins, A, C, and K, plus calcium, manganese and fiber. It packs such a nutritional punch in so few calories that we really can't afford to not like it. It's just not worth it.
Plus, kale is in season in the winter (which is quickly approaching around these parts) meaning it is typically less expensive than other greens between Christmas and Easter.
In a way it's kind of a cool leafy green in that, unlike spinach, it doesn't wilt quickly when exposed to heat and so in a way it's easier to work with in a lasagna. It goes soft after some time on the stove, but it's never mushy like spinach tends to get.
I'm not sure what exactly it is that I have an aversion to when it comes to kale. I think the texture bugs me a little bit and it can taste a bit bitter sometimes...but neither of those compare with how good it is
for
you. So, I've been trying to find ways that I do like it served.
I have been frequenting the
Fat Free Vegan Blog
for years now, and the
recipe
for this lasagna always seems to pop up on "current faves". Since polenta has been one of my favourite foods since I was old enough to eat solids I figured this might be a good recipe to bring me over to the kale-loving dark side.
I made a fresh batch of tomato-carrot
marinara
sauce, after searching through my freezer for an hour because I am
sure
I had some leftover from the last time I made
lentilball subs
, which I am sure to find tomorrow. I also couldn't find any premade polenta (and I prefer to make my own) so between making the polenta and the marinara sauce this lasagna turned into quite a project. I suppose I could have just used a canned sauce but homemade is so much better (plus every bit of extra betacarotene helps in these flu-ridden times). Because it was so much work I was kind of hoping we wouldn't like it...but it definitely lived up to its "favourite" status on Fat Free Vegan. And my freeze is now freshly stocked with marinara sauce, so the next time we have this it will not be a laborious task at all.
I'm really happy I went with the kale as opposed to the spinach (which Susan V offers as an alternative). The texture was perfect because the lasagna still had a bit of a crunch, which would be missing in a spinach-based sauce.
And finally, in honour of this nod to a Fat Free Vegan favourite, I would like to congratulate Susan V for being voted Favourite Vegan Blog in the 2009
VegNews Awards
. Well deserved!