Despite not being much of a breakfast person, I get ambitious on the occasional lazy Sunday morning. Since we passed out on the couch at promptly 9pm last night (such partiers!) I was up fairly early this morning and decided we could use some hashbrowns.
Hashbrowns are the only exception to my "I Don't Like Breakfast" rule. I was also at the specialty grocer the other day and cleaned them out of
Harry's tempeh
so when I noticed the recipe for this casserole in
Eat, Drink and Be Vegan
I decided today was the day to give it a try.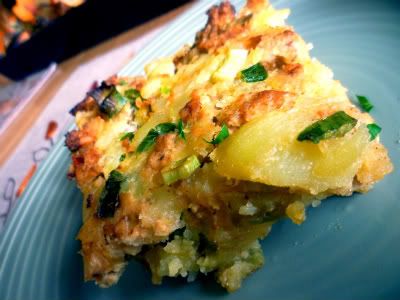 It was really good. Even better sprinkled with a wee bit of hot sauce after it comes out of the oven...gives it the perfect bite.
After we finished eating, Paul declared: "If this meal were on Facebook, I'd fan it". So there you go. It's good.
I also have excessive amounts of canned pumpkin wasting away in the cupboard so I thought I'd make these pumpkin chocolate chip cupcakes from
Vegan Cupcakes Take Over the World
. Isa says not to refer to these as muffins, but I don't think muffin is an insult and we thought them to be more muffin-like than cupcake-like, in a good way. There is a very slight cinnamon drizzle on the top to give them an almost sticky-bun kind of feel but they are not the same kind of traditional super-sweet-rot-your-teeth-in-a-good-way cupcake characteristic of the book. As such they make a better post-breakfast treat than traditional cupcakes. Unless, of course, you don't mind chocolate and buttercream at 8am (Truthfully, I'd be lying if I said I've never had a cupcake for breakfast).
Evidently we needed the hearty breakfast because afterwards we thought we were brave enough to start our holiday shopping at Toys'R'Us. On a Sunday. And we quickly realized we were over our heads when we watched a child punch her mother in protest of leaving the store. Yikes!