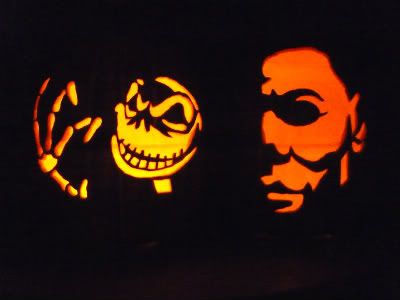 We love Halloween. Evidenced by those two pumpkins up there, carved so intricately by Paul (who drew out the stencils himself), featuring Jack Skellington and my most
favourite
of the horror villains, Michael Myers. Which begs the question...if you have a favourite fictional sociopath does that make you a bit of sociopath?
We actually had four pumpkins this year. The two featured up there are permapumpkins that we bought at Michael's. Every year he works so hard on pumpkins and then has to throw them away on November 1 - permapumpkins are the solution to dilemmas of this sort. They last forever, so each year Paul is going to do a couple so that eventually we'll have a lawn full of them every Halloween. It's nice because you don't have to do any gutting, but they are more difficult to work with as the material is more flimsy than real pumpkins. Still, we did get two real ones as well, because it's just not halloween unless your picking out pumpkin guts from underneath your fingernails.
Our plans this year consisted of a little gathering with friends at our place and then venturing off to one of our favourite clubs, a place that goes all out every Halloween. Because people were coming over and because I was craving candy corn something fierce (and it most certainly is not vegan) I decided I was going to brave making my own. Via
this recipe
.
You may notice there is no picture featuring an enormous candy corn-themed success. All that happened was a whole lot of wasted Earth Balance and burnt hands from touching really hot sugary dough. I really don't know what I did wrong because I have never made candy before but the dough was rock hard and crystalized almost instantly. I couldn't even knead it. This was around 11pm on Friday night and I was exhausted and frustrated so I just tossed the whole thing and gave up on it. Maybe I'll try again next year, when I'm not so rushed. As such, the martini glasses I had set out and was planning to fill with candy corn were instead filled with extra trick or treat candy: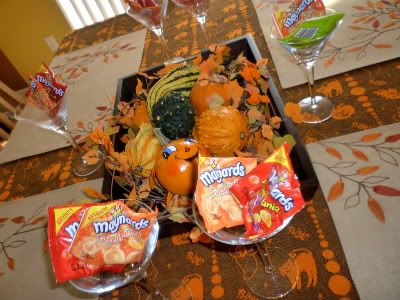 Speaking of which, is is freaking hard finding vegan friendly candy to give out on Halloween! Luckily, I found out all of Maynards staples (Sour Patch Kids, Fuzzy Peaches, Swedish Berries) are vegan-friendly:
I'm about a day too late, but for future reference if you're not wanting to spend an hour huffing and puffing in the supermarket trying to find vegan treats
this
is a pretty comprehensive list. Be sure to still read the labels though, a lot of the times companies change their ingredients/prep processes quicker than the list is updated.
And because this is me we are talking about, I baked pumpkin cupcakes!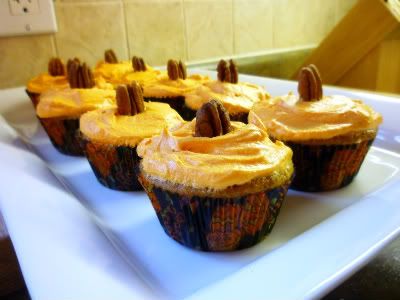 They are the same
golden vanilla w/buttercream frosting
cupcakes I made for Paul's birthday last May, but I added pumpkin pie spice to make them feel a bit more Halloween-y and dyed the icing orange. I used pecans to make "stems"..they turned out pretty cute!
Because my niece and nephew come to our house for trick-or-treating I made up little grab bags (boxes?) for them featuring these cupcakes, with these adorable Halloween-themed Chinese takeout containers I found at Michael's: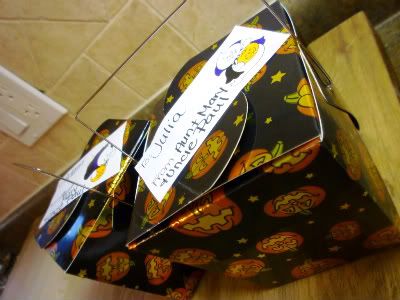 And, because grownups like treats too, this is eyeball punch (vodka-seven dyed red - not very creative):
Our Dora even got in on the Halloween act!
Ooooh spooky.
And finally, although not at all vegan-related, here's Paul as BeetleJuice (I'm sure you have guessed by now that he's a huge Tim Burton fan):
And me, as Little Red Riding Hood with my big bad wolf!