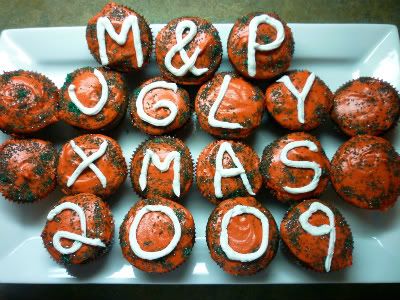 The second weekend of December marks my favourite of our newer holiday traditions - Ugly Xmas! We encourage our dear friends to stop by for some Christmas cheer by means of a little eating, a little drinking, a little dancing and a little shuffleboarding in their tackiest christmas attire. It gives me an excuse to bake up holiday treats without having to eat them all. Above are gingerbread cupcakes with cream cheeze frosting, from
Vegan Cupcakes Take Over the World
(where else?!).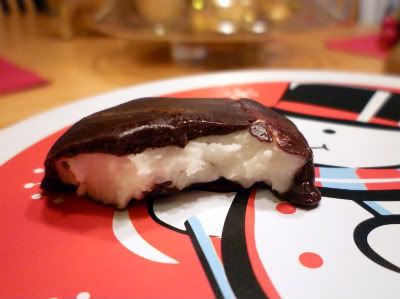 These are peppermint patties from
How it All Vegan
and admittedly the colourful photos of these beauties in the cookbook is what prompted me to buy it in the first place. I definitely wasn't disappointed...if I wrapped them in foil I'm fairly certain I could have fooled people into thinking they were store bought. And they were so easy to make. Almost too easy, as I'm going to be tempted to make them every time the sugar cravings kick in.
And although these photos are not necessarily vegan-themed, I thought I'd share some of our Ugly Xmas finest: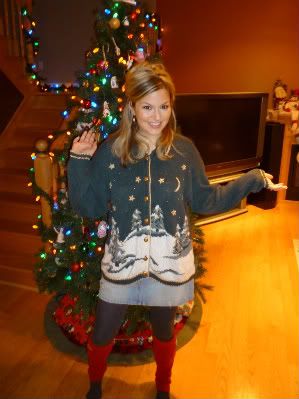 Me waiting for our guests, in a sweater that cost me sweet $3 at a secondhand store!




Paul in an embroidered cotton number that had some strange black glitter all over it, also under $5 from a secondhand store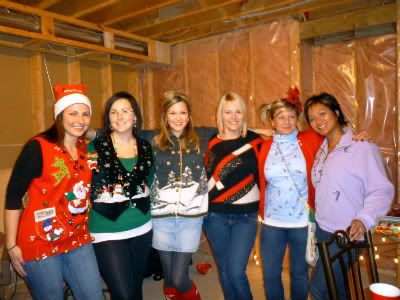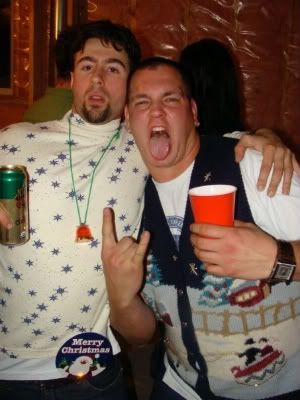 There were some great outfits this year, wish I could share them all! But only one could win the title of "THE UGLIEST" (voted on by all the guests) and get to wear the crown...




And that was our dog, Dora. But since she was one of the party hosts and thus did not qualify for the crown...




...it went to the two second place winners, Shayna and Kathy!
It was a great night, thanks to all of you who came out - can hardly wait for the 3rd Annual to take place next December!