I was supposed to spend this last week with my toes in the sand somewhere far closer to the equader than Ontario, Canada. Unfortunately, the universe had other plans for us this first full week of 2010 and we had to back out of our travel adventure. It turned out to be a bit of a blessing in disguise, however, as it appears I will finally have the opportunity to defend my Master's thesis next week.
All the same, it's a bit of a bummer trading in the bikini for a parka and Microsoft Powerpoint. In an effort to lift my spirits a bit I decided to bring a little bit of the Caribbean into our house last night, with Marley on the iTunes and a Jamaican-inspired meal on the table. It was -15C outside and Montego Bay inside, with jerk seitan and all-spice seasoned rice and beans.
The rice was alright, but the seitan was
amazing
. I'd never had anything along the lines of jerk chicken, etc. in my pre-vegan days, so it was a whole new world of flavour for me. The recipe is found in
Vegan Express
, which specializes in wholesome and adventurous meals that can be on the table within 30 minutes. It took me quite a bit longer than 30 minutes, however, because no one around here sells packaged seitan and so I have to make it from scratch anytime a craving hits.
Making seitan is fairly straightforward: wheat gluten, soy sauce, water, garlic and spices made into a very elastic dough. It is very similar to the
seitan roast
I make around the holidays, but rather than taking on a roast shape its made into bite size chunks fit for stir fries and the like and rather than steamed it is boiled. It takes about an hour of boiling to get it just right. I'm not the greatest at making my own seitan (I can't explain why, something is always just a little bit
off
), and yesterday made me really miss my beloved vegan grocer (and seitan supplier), a victim of the recession. All the same, the seitan turned out alright after boiled and then crisped up in a pan:
I made extra...it will go great in tonight's
sweet and sour stir fry
, in lieu of tofu.
In terms of adding flavour, I kind of "invented" my own jerk seasoning (onion powder, garlic powder, salt, sugar, thyme, cinnamon, allspice, red pepper flakes, nutmeg), because our local supermarket apparently doesn't carry it (they never have anything I need, it seems) and I wasn't willing to pay $9.99 at a local specialty store. Luckily, I had all the right spices on hand. No clue how authentic they all are, but it was
gooo-oood
. Those spices, combined with molasses and pineapple juice and a couple other extras made for an amazing sauce to drench the seitan in. Yum!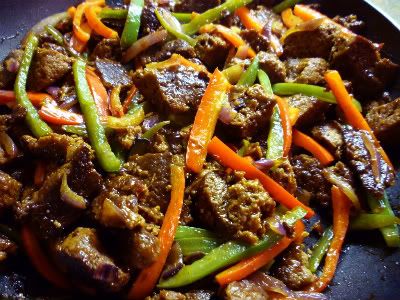 It's not a beachfront villa, but it will do.