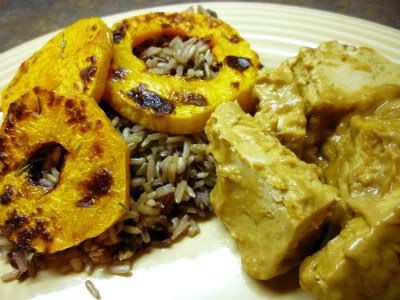 I am in the process of juggling working at the clinic and coordinating
Project: Cupcakes Care
but I thought I would take a moment and share a picture I randomly found on my hard drive, of a meal I made nearly a month ago. I don't know how I possibly forgot about it, as it was one of the best dinners we've had in awhile. You can tell my mind has been all over the place lately.
I'd never baked tofu before (which is weird, because why
wouldn't
you?! It's so easy) and I'd never used cashew butter before either. This dish was definitely a venture into the unknown but well worth the risk because it was awesome. The recipe is found in
Eat, Drink and Be Vegan
and the author recommended pairing it with her recipe for winter squash rings. Who am I to argue?
The thing is, I used a butternut squash and so aside from the few slices cut at the very bottom, they were less like winter squash rings and more like winter squash hockey pucks (man...how Canadian am I?). I did take very good care to ensure the two ring-like slices I managed to salvage from the very bottom of the squash survived long enough for picture purposes. "Winter squash rings" just
sounds
a bit better than "winter squash hockey pucks", no? Anyway, the rings/pucks were smothered in herbs (including fresh rosemary from the rosemary plant my grandma gave me and I still haven't managed to kill!) and while the tofu was very good, the squash was crowned winner of this meal.
And as a reminder to those of you in the Kitchener-Waterloo area, you still have about 23 hours to get your order in for
Project: Cupcakes Care
and support the Haitian earthquake relief effort through
Free the Children
. I'm very excited about the outpouring of interest and support, and made my first few deliveries yesterday evening. My first contributor liked them so much she's ordered a second dozen (thank you Jenn!). Check out
my post
and see how you too can enjoy the deliciousness of a vegan cupcake while helping out with a very important cause.