I always get so, so, so disappointed when recipes don't turn out. It's the way things go...not everything can be perfect and amazing all the time, nor would we want it to be because our recipe roster is already so extensive that we don't eat the same thing twice over the span of nearly three months. So, sometimes it's good when recipes are a fail because it means I can have
seitan wingz
sooner, although it is a letdown when you put a lot of time and effort into something.
The recipe for this casserole is found in
Calciyum
, which I have had great luck with in the past. I really have no idea what went wrong here because it sounded delicious in print form and it smelled delicious while it was baking...it was just missing something. I really wanted to like it, because it is full of so much variety and subsequent nutrition. Brussel sprouts, carrots, potatoes, broccoli, tomatoes, collard greens, etc. Crazy amounts of vitamins and nutrients packed into one casserole.
I think the problem was that it seemed really, really dry. It's held together by tofu and a little bit of soy sauce, and there are a few herbs involved too, but other than that there were really no flavour enhancers present in the recipe. I think if I were to try it again I would definitely give it a healthy dose of sriracha or something, to zip it up a bit.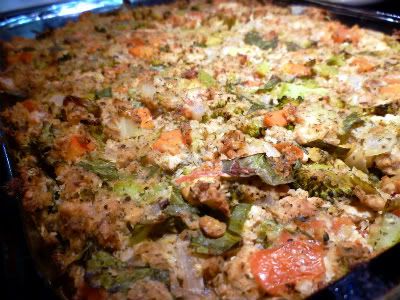 This failure seriously has me sad. And nobody likes a Grumpus. So, Steven the Vegan is here to lighten the mood: