It is easy, in such devastating times, to be overcome with grief, frustration, confusion and helplessness and the feeling that there is nothing you can do.

As it turns out, there is something you can do.

There's just one question and a simple yes or no answer will suffice.

Do you like cupcakes?!

If the answer is yes, continue reading. If the answer is no, it begs the question of what exactly is wrong with you, but that is neither here nor there.

If you are among the awesome who love a good cupcake, I am selling cupcakes with 100% of the proceeds going toward the Free the Children Earthquake Relief Fund (http://www.freethechildren.com/). Free the Children is an amazing organization focusing on not only immediate relief, but long-term assistance to help Haiti get back on its feet.

I am happy to cover any and all ingredient, supply and equipment costs so that every penny you contribute goes STRAIGHT to those who need it the most (plus I get to lick the spoons when all the cupcakes are packaged up and sent off, so it's win-win here).

I am also able to deliver straight to your door if you live within Kitchener-Waterloo. If you are in Cambridge, message me and we can perhaps find a halfway point. Unfortunately I'm unable to go any further than that. There will be no charges for any of this. Again, all of the proceeds go to the earthquake relief fund. If you donate $10, exactly $10 goes into the little piggy bank that eventually finds its way to Free the Children. You are essentially donating money to help our friends in Haiti, and I'm giving you cupcakes as a thank you.

Choose between DOUBLE CHOCOLATE and GOLDEN VANILLA, both topped with a fluffy buttercream frosting and can be yours in the following quantities:

1) The Delicious Duo (2 cupcakes) - $5

2) The Saucy Six (6 cupcakes) - $10

3) The Divine Dozen (12 cupcakes) - $15

These cupcakes are dairy and nut free. Please advise if you have any special dietary concerns or allergies. I am also able to make gluten free cupcakes at special request, in quantities of 6 and 12.

If you would like to place an order, please do so by FRIDAY, JANUARY 22, 2010 at 10am. Cupcakes will be delivered over the weekend, or at a time specified by your convenience. Comment here, or drop me an email at hellomarycakes@hotmail.com.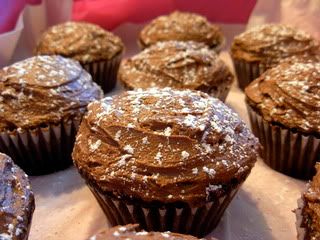 Double Chocolate!




Golden Vanilla!
It may not change the dire circumstances plaguing Haiti today (and in the years to come, no doubt), but it's a little something and progress is built upon a bunch of little somethings.