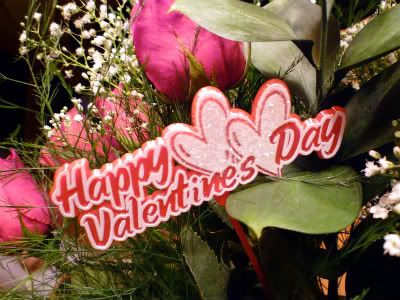 I have always had a strange relationship with Valentine's Day. As a teenager without a boyfriend I lamented the day away, harping at its commercialism and propensity to make us feel like crap about ourselves...stemming from the fact that that lousy
Nick Carter
simply refused to realize how great we would be together.
As a teenager
with
a boyfriend, candy grams sent to my homeroom gave me an heir of importance that I assure you I did not deserve and in turn lead me to believe that all those who hated V-Day were simply Bitter Bettys trying to bring us all down.
As a university student I had my first interaction with feminist literature and was thus vehemently opposed to and appalled by Valentine's Day as an extension of my Damning the Man (my senior year Sociology of Women seminar nicknamed February 14 'Heterosexist Monogamist Day', an alternative title for Cupid's Day that I'm still quite fond of and have been known to throw around, years later).
As a married woman teetering on the verge of her late 20s (gulp) I have scrapped all these extremes and am quite indifferent with regard to Saint Valentine.
I do tend to think of V-Day as a time for the new love bugs. And those who have and like to spend money. Neither of which are we. We're an old (and extremely cheap) married couple who spend their time complaining about how much it costs to see movies "these days" ($10 a person?! For real?! We wait until they come out on DVD, and then we will ONLY rent them from the corner store where they charge $2 per night).
We haven't done major gifts for Valentine's Day in years. Although, once upon a time (during the 'Heterosexist Monogamist Day' era, I believe) I commented on the cliche of buying red roses on Valentine's Day. I believe I referred to them as "uncreative", an "easy way out", and "so common that they even sell them at gas stations in February". And it never fails, every year since those words came out of my mouth, Paul comes home on Valentine's Day with a dozen red roses that he swears he bought at the gas station down the road.
I'll let you in on a little secret though....I sorta have a thing for long stem red roses. I always have. Even during the Heterosexist Monogamist Day era. I love them
because
they are as cliche as hotel rooms on prom night. They were the first flowers ever given to me by a boy and receiving them makes me feel like I'm a teenager again. But shhhhh...don't tell Paul.
I had planned to make a fairly uneventful dinner at home but Paul demanded that we go out and try
Classic Indian
in Waterloo, a restaurant we have been dying to try since Paul sold a house in the neighbourhood (and came home after every open house raving about how good it smells when you drive by).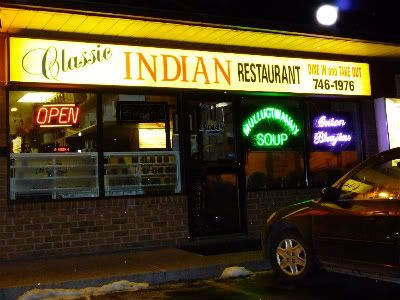 Unfortunately, the pictures aren't very great and the ones of our main meals didn't come out at all. The restaurant was very dimly lit and there were a few couples around us having nice romantic dinners. Paul and I were already causing a bit of a scene freaking out about how great the food was, so I didn't want to also be the girl who ruined everyone's night by using the flash on her camera.
Our basic plan of attack when trying a new restaurant is this: get as much food as possible and make our own little buffet line on the table between the two of us. It's usually a few appetizers and then a couple entrees, which we then share, so that neither of us is sad if the other one picks the more delicious item.
They actually had to bring us a second table to fit everything we ordered. So when I say that we were causing a bit of a scene, I really do mean that we were causing a bit of a scene.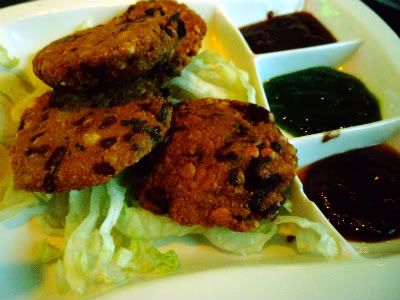 Masala Vada - South Indian falafel made with lentils
Onion Bhajias [Paul and I ate this so fast. I think we were both concerned that the other one was going to get to have more]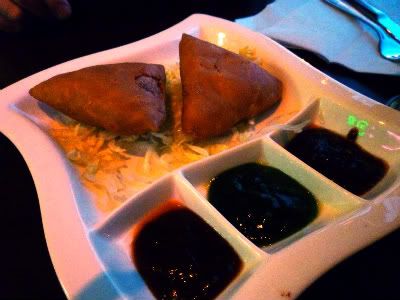 Vegetable Samosas [I've never been the biggest fan of samosas, and I think it's because the ones I have tried in the past have come from the freezer aisle...I am officially a convert]
For our mains, I got the Chenna Masala and Paul got the Veggie Madras. We loved them both but there's a special place in our hearts for the chenna masala. All of this amazing food (three appetizers and two entrees), plus a side order of naan and basmati rice came to only $40, so our frugal hearts were satisfied.
All of their food is made fresh. You can see them cooking it from behind the counter. The wait staff not only helped us pick out vegan options (of which there were an insane amount to choose from), but they also let us know that because everything is made fresh, meat and dairy items could always be left out if there was something that wasn't on the vegetarian menu that we wanted to try.
Much vegan love to
Classic Indian
. It goes without saying that this restaurant gets the
This is Vegan: Seal of Approval
.
Classic Indian
150 Wissler Road
Waterloo, ON N2K 3C6
(519) 746-1976
After dinner we headed home to a bottle of sparkling wine and a rousing round of Scattegories (I love board games. Paul hates them. He appeased me because it was Valentine's Day). I wasn't exaggerating when I said that we are an old married couple.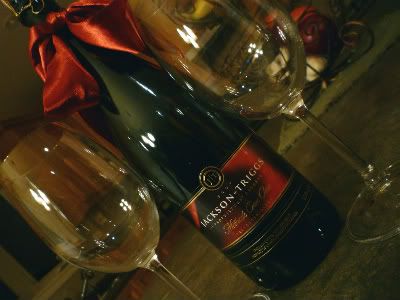 Dear Jackson Triggs: thank you for not using gelatin to
filter your wines.
And while I'm not much for extravagance on V-Day, I do like any excuse to bake. And buy insanely overpriced strawberries in the dead of winter just because they are red and they go with the theme of things. I love themes!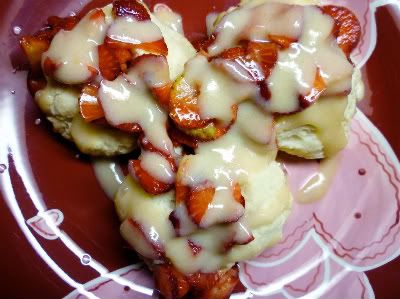 (Heart-Shaped) Strawberry Shortcake Scones with a Macadamia Creme, from Vegan with a Vengeance.
So, Heterosexist Monogamist Day '10 was pretty awesome. And I totally schooled Paul at Scattegories even though I had way more wine, so that makes it even more awesome.