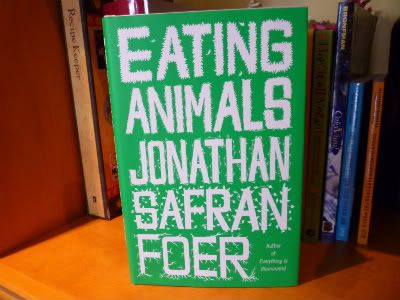 I'm not really "up" on veg*n literature and media. I still have yet to get through all of
Earthlings
. While I can say that I was a herbivore in-the-making for years, believe it or not watching and then reading
Fast Food Nation
was what finally pushed me to go vegetarian. And that is as moderate as it gets, as Eric Schlosser isn't even vegetarian. It was only after I was vegetarian that I had more direct contact with literature on the horrors of the factory farm and its implications for human rights and the environment. (For the record, what finally turned me vegan was a plate of 3-cheese nachos at the beach that made me violently, violently ill).
I know I should be more aware of the research and I try to be. I was far more active in this regard when I very first embarked on veg*sm, as I needed to learn and I needed to stay motivated. Watching a chicken get her beak ripped off makes one a lot less likely to stop at KFC for dinner (at least I hope it does?).
I just have a very strong emotional and physiological reaction when interacting with the information. It makes me distressed and depressed (like it should, really). It garners within me not only a sense of helplessness but also puts me in a state of hostility toward the way our world works. Neither of which I believe are healthy or productive to promoting something I am so passionate about. I know this is not an appropriate excuse. If an omnivore told me that learning about factory farming makes them uncomfortable I would tell them to suck it up buttercup - if they wanted to continue supporting the industry by eating meat and dairy or, alternatively, stop eating meat and dairy.
If you're vegan, is it okay if you're not up-to-date on all the animal cruelty information that exists? If it makes you hostile and disenchanted, like it does me?
While I like to think of myself as having a right to not suffer psychological discomfort because I already AM vegan, I am aware that this logic is flawed and there is always more we can be doing for the causes we believe in. And I am flawed. But know that I am trying, even if it is just a matter of keeping this silly little blog to show people that we vegans love to eat and have fun and carry on like everyone else...my mission here is nothing more than showing people that going vegan is not an impossibility, nor is it difficult. And in the meantime I am so thankful for the men and women out there that are much stronger than I, that are either more psychologically stable or are more willing to sacrifice that sense of comfort in order to get our message out there. I am inspired, everyday.
I had been meaning to read this particular contribution to veg*n research since it came out a few months ago and have finally gotten around to it. I wasn't sure what to expect. I wasn't sure how extreme or moderate it would be. I was scared it was going to be really graphic (which at times it is, although not as much as other vegan literary works). But Jonathan Safran Foer is one of my favourite fiction authors (
Everything is Illuminated
is so, so, so incredible) and when I learned he was writing a book called Eating Animals I knew it was something I couldn't miss.
The book details much of which most of us vegans already know (but the general public may not) - the horrific conditions of factory farms, the shit that's in the meat people consume on a daily basis (what I say shit I am not being crass, I literally mean shit), the resulting environmental degradation and the devastating impact on human health and wellbeing. He also touches on the outright ridiculousness of such terms as "free range" and "family farm" (which more often than not actually stand for the direct opposite of that which you think they stand for).
What I particularly appreciate about this book is Foer's control and his attempts at respect for those he is working with, regardless of their particular stances. This is by no means an easy task, especially for someone who, by virtue of embarking on this research, comes to them with a particular stance on a certain issue. Personally, I'm not sure how I would react confronting a rancher as he is hauling cattle off to a slaughterhouse. While (to my knowledge) Foer is vegetarian (and not vegan), I still think this book raises very important questions yet is not hostile in the slightest and is subsequently more easily accessible to mainstream (read: non-vegan) audiences. A characteristic I find very important, as we vegans often build walls around ourselves, rendering us difficult to approach at times.
His moderate stance may be a source of criticism among other vegans, but I find it to be a strength in this case. Foer is inquisitive but respectful and does his best to represent the vegan - vegetarian - animal welfare advocate - omnivore (and whatever else) spectrum. As opposed to the black-or-white notion that vegans and omnivores always have been and always will be polar opposites, Foer talks with a vegetarian rancher and a vegan slaughterhouse builder (which I admit I scoffed at when reading the chapter headings but closed the book with a far less extreme response) and a host of folks in between that are omnivores but fight diligently for legitimately humane treatment for the animals our society demands to eat.
There has been some criticism regarding Foer's focus on his own thoughts and feelings as he engaged in this research as opposted to strict statistics, facts and discussions on ethics. Maybe it's because I'm a blogger and spend my time here discussing my own experiences and thoughts (as opposed to any kind of scientific research), but I like this aspect of his book. I find it personable. It shows personal struggle: a new father grappling with the issues we all encounter three times a day when we sit down to eat. I don't think it's fair to fault him for this.
I really appreciated the struggles he faced regarding dietary choices as a result of becoming a father. I don't have children, but I would imagine when you have a baby you take nothing for granted. You take no one's word for it. You want to provide the best possible life for that child and you begin thinking about things you didn't think about before. Foer, like pretty much every other parent, is asking these questions because he wants to provide for his son, not necessarily because he wants to start a revolution. At the end of the day, we are all just trying to survive and be good. No matter how often you were told how special you were as a kid, the god honest truth is that the vast majority of us are just average. Ordinary. Most of us aren't going to change the world. But we have the capacity to change OUR worlds and the worlds of those around us, those we love, our children. There is no fault in trying to genuinely take care of your family and admit that that is your purpose for taking part in what you take part in, as Foer does within this book.
Questioning giving meat and dairy to children is a very recent phenomenon and still far from the norm, so while we vegans think of Foer as a moderate, I'd imagine the majority of the public would consider him an extremist liberal for not feeding his child meat. I can't count how many newspaper articles I've read equating veganism with neglect - yet no one questions the hormone and antibiotic-laden food-esque substances we attain at the drive thru and supermarket freezer aisle that we willingly allow our children to consume on a weekly, often daily, basis. Foer serves as a voice for all of us trying to make the best decisions for our families, even though the best decision is not always the one we like the most or the one that is easiest to achieve.
What I find to be a particular strength of this book is Foer's acknowledgement of eating as a profoundly social act. All of our stories, the ones signifying who we are and where we came from, in some way or another pay hommage to the act of breaking bread. Because eating is so definitive of our history, our culture and our identity, deciding to refrain from eating those things that once were a part of the very fiber that makes you YOU means breaking tradition. And often grieving the loss of that tradition.
Changing the way you eat means changing who you are. It means calling attention to yourself as someone who has changed; it means potentially offending the people who you love and who love you and are showing you their love by giving you a plate of food that you ate your whole life but now have decided not to. Being vegan means I'll never get to have my grandma's schnitzel again, or my sister-in-law's Christmas turkey, or my mom's rolo cheesecake, things that came to define certain times and events in my life. While we vegans often keep our guard up regarding how we feel about sacrifice (in an effort to keep the "veganism is so hard" claims at bay) and instead focus on how awesome veganism is (and it is), I think it is fair for us to grieve the loss of certain aspects of ourselves while celebrating our new life paths.
I developed an interest in going vegetarian (and later vegan) as an extension of my stance on human rights, only to later develop an awareness of animal issues. As such, I am deeply offended when someone asks me how I can care more about animals than I do about people. It surprises me that people fail to see the connections between our overly indulgent western factory-farmed-meat-based diet and the plight of millions of humans in the developing world. And the abuses of the poor right here at home in the name of providing cheap meat. And the abuses of those not-so-poor who are now test subjects in the "how much crap can we put in this and still call it food" corporate experiment. I thoroughly appreciate Foer's focus on not only animal rights, but the profound connection between animal rights and human rights.
The time of ignorance is over. There is enough literature out there now (if Foer is too moderate for you, try
Slaughterhouse
). We have now moved into a time of indifference - or have we all? Foer reminds us that history is not destiny, and we vote for the treatment of animals (and the treatment of our environment and the treatment of ourselves and other humans) with our forks.
Although he is not vegan (and I hope he'll consider it in the future), I give this book the
This is Vegan: Seal of Approval
. I recommend books to people all the time, and if you only take one of my suggestions, please let it be this one. If you live in the area I'll happily lend you my copy so that you can read it (just ignore the rainbow of highlighted sentences and my sloppy writing in the margins). Also check out
Everything is Illuminated
, because it is just so cool.