Veteran readers of this blog are probably well aware of my fussiness with regard to salads. I try not to hate things, but man have I hated some salads. I always found them quite boring and something you ate because it was good for you and not because you could ever
possibly
like something so monotonous.
Nowadays I am aware that just because something classifies as a salad it does not mean that it is good for you - take a look at what some fast food restaurants call salad. I have also learned that there are salad options other than simply drenching lettuce and cucumber in prepackaged Italian dressing. Yes, I have learned that even I, the former anti-salad advocate of the Great White North, can get excited about salad. Even in the dead of winter, when the last thing most of us up here want to do is eat cold vegetables.
I couldn't think of a decent name for this salad because of its somewhat diverse characteristics. It came to be after trying several similar recipes, but not being completely satisfied with the results. It's kind Waldorf-y in nature because of the fruit and vegetable combo, but there is no mayo (vegan or otherwise) present and so it's not a true Waldorf salad.
I'll just let you name it for yourselves. But really, I love this damn salad and I've never really felt this way about raw produce before, so I really think you should try it. It made a great companion to
shepherd's pie
at dinner the other night, but it's got so much flavour that it would even be great with nothing more than a couple slices of garlic bread.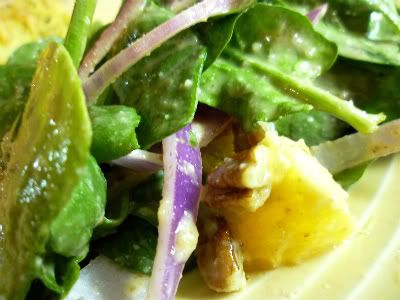 The "But I Thought I Hated Salad" Salad

*Makes 4 large servings and 6-8 small servings

INGREDIENTS:

Salad:
4 cups baby spinach
1 medium red onion, thinly sliced
1 orange (peeled and as much of the white skin as possible removed), chopped into bite size pieces
1 red delicious apple with peel, cored and chopped into bite size pieces
1/4 cup pecan or walnut pieces (go with pecan, if you can!)

* I wish I had discovered this gem for the holidays, because dried cranberries would go wonderfully. Raisins would, too!

Dressing:
1/8 cup pecan pieces
1/4 cup white vinegar
1/4 cup olive oil
2 tbsp raw cane sugar (agave nectar would also work, but decrease to 1 1/2 tbsp)
1/2 tsp dried mustard
Hot sauce to taste (we used Frank's, and we used a lot)

DIRECTIONS:

1) Assemble the salad items.

2) Combine all dressing ingredients in a food processor or blender and blend until smooth. Taste and see if you want to increase the hot sauce or the sugar.

3) Pour dressing over the salad mixture and toss thoroughly.
This is barely a recipe, it's so easy.