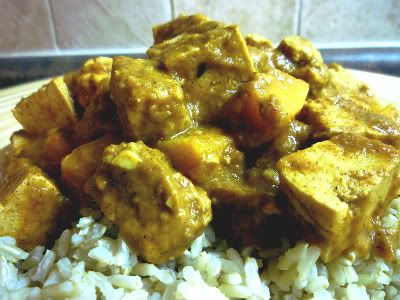 Alright. I don't know what the hell is going on but I've screwed up yet another meal. The second in a row. I'm starting to notice that I am the sole common denominator in these failures and thus it is highly likely that I alone am the source of the problem and not the recipes themselves. I'm also starting to think there is something wrong with my sense of taste. This meal in particular LOOKED and SMELLED incredible. I was pretty much foaming at the mouth when I walked in the door after work and lifted the slow cooker lid. And yet I didn't like the taste? I must have some wires cross in my brain or something. That is the only logical explanation.
This recipe comes from
Fat Free Vegan
, a recipe index that I have had next to no failures using. All of the ingredients are delicious. Tofu?
Good
. Tempeh?
Good
. Butternut squash?
Sofreakinggood
. The
picture
on Fat Free Vegan looks so delicious that (I'm not going to lie) it actually took some restraint to not lick the computer screen when I first found it.
The best part of all is that it is a slow cooker recipe. I work split shifts at the clinic on certain days, meaning we shut down for a few hours in the middle of the day but re-open again and have appointments in the early evening. On these days, slow cooker recipes are ideal: I can do all the major prep work during my extended lunch, throw everything in the slow cooker and when I get home shortly after 7pm it is just a matter of throwing everything on plates. This is like a perfect storm of recipe features, how could it go wrong?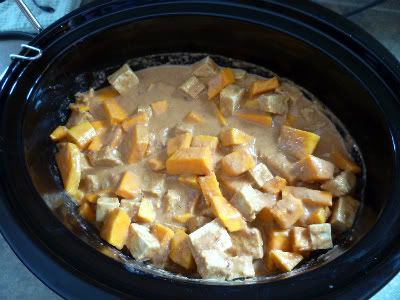 2pm: Everything into the slow cooker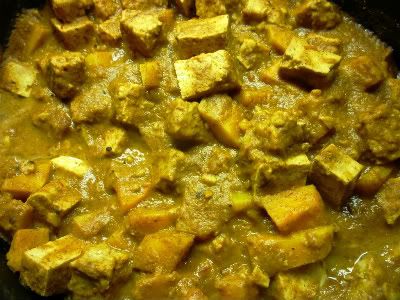 7:30pm. Everything out of the slow cooker.
I know that I put in too much cinnamon. That was Big Fail #1. But I can't for the life of me put my finger on what else went wrong or, for that matter, what it is about it that I didn't like. Maybe I was abducted by aliens and they took nothing from me but my sense of taste?
Is it just me or are things around here starting to sound less like
This is Vegan
and more like
Kitchen Nightmares
?!