What is it about a bowl of soup that makes even the worst days seem a little bit more bearable? I'm not big on winter and I welcome the change in weather and fresh summer product that goes along with it. I rarely make soup once the mercury starts to rise, so I'm using these last few days of winter to load up on all the winter root vegetables and steaming pots of deliciousness that I can.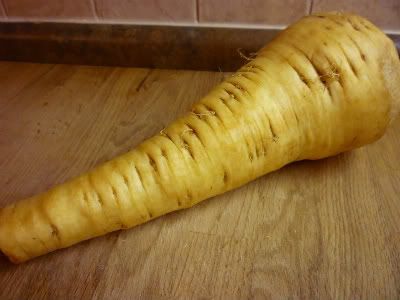 Parsnips make me kind of sad. They are delicious and nutritious, but are constantly being overshadowed by their high achieving brother - The Carrot. They are very high in fibre and (listen up ladies of childbearing age) are a great source of folic acid. I like carrots just fine, but between the two I much prefer the parsnip. Especially if potatoes are also somehow involved (when making mashed potatoes I love throwing in some parsnip before mashing, or even after mashing if you're new school and don't mind your mashed taters having lumps). They are also great in lieu of potatoes (parsnip fries, anyone?).
This recipe is from
Vegan Soups and Hearty Stews for All Seasons
. The recipe calls for soy creamer, but you know my aversion to soy in situations where it can be avoided. Instead of creamer, I increased the amount of rice milk and sprinkled in some arrowroot powder to thicken things up. You could also add a bit of oil to make things creamier, but I was trying to keep this as healthy as possible. It may not have been as stick-to-your-ribs as it could have been with the soy creamer, but it was delicious nonetheless!