I've declared my love for falafel many times here at This is Vegan, so naturally I have been very excited about trying this sweet potato version, recipe from
Fat Free Vegan
. The base is potatoes, not chickpeas, so obviously they taste nothing like traditional falafels. I mention this in case anyone who wants to try them is expecting the deep-fried variety made famous at street vendors in big cities and not because I think their lack of traditionalism is a flaw. I already have a wonderful authentic falafel recipe from
Vegan with a Vengeance
and so I was excited to find a unique take on the little chickpea'd wonder that could. Variety is the spice of (vegan) life, after all.
I think potatoes have gotten a bum rap in our carb-and-calorie obsessed society. For those who only eat the deep-fried variety, this bad reputation is probably warranted. When you pull a potato out of the deep fryer it practically ceases to be a vegetable, especially if it is the freezer aisle or fast food restaurant variety. These "fries" are usually just a little bit of potato and a whole lot of preservatives, sodium and attempts at flavour enhancement. Which seems kind of strange, because potatoes are so naturally flavourful, but when you pump them full of all sorts of chemicals so that they can have a longer
shelf life
it's no surprise that flavour is often lacking.
So yes, in that case I would agree that there is something wrong with the potato. But it's not the potato's fault. What's harmful are our attempts at playing scientist and testing just how much junk we can cram into something and still have it be edible. I believe the potato itself, especially the nutrient-rich sweet potato in all its vitamin A glory, is a suitable staple for most diets. That being said, eating an excess of potatoes (or anything, really), even the way that nature intended them to be eaten, becomes problematic if it is
all
you eat. The potato should never be the only vegetable that makes an appearance on your plate day in and day out (a concept all but lost in our 'meat and potatoes' society).
So, here is a way to eat your potato for the sake of eating your potato and not at the expense of other vegetables. A falafel platter is the perfect way to enjoy a variety of raw vegetables, and that is exactly what we did. I chopped up some bell pepper, red onion, cucumber (a falafel MUST!) and tomato. Susan V suggests serving this unique spin on falafel with a yogurt-tahini sauce, but since I am not crazy about the taste of soy yogurt I made a roasted red pepper and almond hummus instead (recipe in
Eat, Drink and Be Vegan
).
These little guys make for a great lunch or dinner, but they also heat up wonderfully and so would make a great appetizer or finger food for your next cocktail party. Just whip up a bowl of hummus and arrange these little balls around it - your guests, vegan or otherwise, will love them. We enjoyed them on their own in this manner, but also stuffed some in whole grain pitas.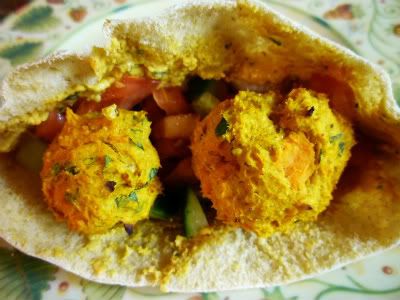 The recipe is found
here
for those of you who want to try these out. Let me know how you like it!