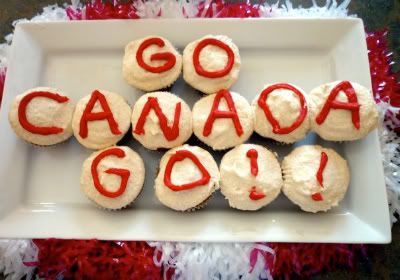 I have my beefs with the Olympics (can a vegan have 'beefs'?). I generally do think it is a colossal waste of money and am fully aware of the implications that such extravagance has on those who can't afford to be enthusiastic about sports. I think overly indulgent national pride and excessive patriotism are very, very dangerous things that draw imaginary boundaries around us to the point where we resist intrusion and lose sight of our global community - the one we are consistently dependent upon. I think the "us" versus "them" dynamic is a detriment to our existence and makes it all the more easier to ignore the plight of those who don't exist within our country's walls.
At the same time, I can't help but notice what the Vancouver games have done to the country I call home, and the sense of community that they have instilled within us; a country so vast and diverse and thus a country that is consistently engaged in an identity crisis of sorts. The spirit I have seen in my community, among both those born on this soil and those who have immigrated here from all around the world, was something to behold. In my twenty-six years here in southern Ontario I have never witnessed anything like it. Patriotism is quite elusive around these parts. Excessive outward pride in our country is not characteristic of the Canadian life (thank God), but all the same it is cool to see such diverse people rally together as one community.
Plus, the opportunity to play our game in our house was something none of us took for granted.
When it comes to hockey, the Canada vs USA rivalry is one of the fiercest and so when it came down to those two and gold medals it was time to have a little party. I made enough food to feed a small army and we crowded a group in our living room, on couches or chairs or sprawled out on the floor, with beers and chips and big hopes.
And maple cupcakes. With maple syrup, tapped just a couple of kilometres away. How Canadian.
The recipe for these is found in
Vegan Cupcakes Take Over the World
, but I had to improvise the frosting. They have a cool recipe for a creamy maple frosting (which looks incredible), but I wanted it to be white. I instead used a standard buttercream frosting and rather than vanilla extract I used maple extract.
It could have been the several
Molsons
or the high that came after
Crosby's OT golden goal
, but Paul declared these the best cupcakes we have made up to this point. The crappy job we did lettering them aside.
Dora and me, decked out in red and white, waiting for our guests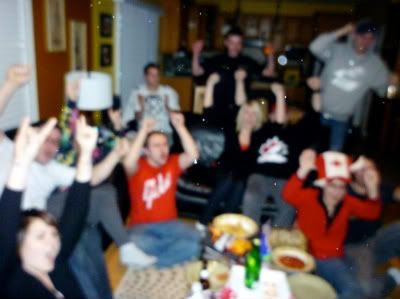 [GOAL!] I was so excited, I apparently forgot how to focus my lens.