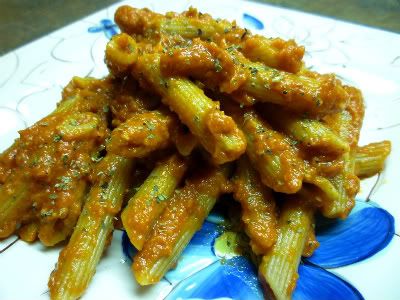 A few weeks ago, the
It Ain't Meat, Babe
blog (which is awesome and something I recommend you check out regularly) held a Kitchen Fails contest. And since I have many kitchen fails stories, particularly from the just-turned-vegetarian-and-I-don't-know-how-to-cook era, I entered twice (once via the blog and once via Facebook). Low and behold,
I won
! As my prize, my neighbour to the north sent me a copy of
Veganomicon
, a cookbook I have been drooling over in many a
Chapters
aisle since I turned vegan, but never bought because I have so many cookbooks that it's going to take me twenty years to get through all the recipes I want to try (I've got time if you've got time!). Well, let's up that number to 30 years because this cookbook has some really exciting things in it.
Whenever I get a new cookbook, I proceed as follows: I flip through it once. Then I flip through it more thoroughly, marking which recipes I am most interested in. I then add the cookbook to my shelf and subsequent cookbook rotation. I typically try one new dinner recipe a week, so I pull out the cookbook that corresponds with the week and blindly select one of the markers. That is what I make that week. It's a very fair and formal process - I don't like to play favourites with my cookbooks and recipes. For the record, when it comes to recipes I find online I save them in an email and work from oldest to newest. I am just now getting to recipes I copied and pasted over a year ago. If you thought you could get rid of me, take note - This is Vegan will be around forever! Muahahaha.
And now that my obsessive compulsive cookbook habits are out there for the world to gawk at (you should
see
how uncomfortable and frantic I get if I accidentally mess up the order) I should note that since I just got this cookbook via the mail this past week, this was obviously not its week for a new recipe. But I had to try
something
and so I found this simple recipe for penne vodka that I happened to have all the ingredients on hand for (except for vodka...but like I need an excuse to go out and buy a bottle of vodka).
My kitchen and myself become a disaster zone when I make pasta sauce. I have not mastered the art of not having it splatter all over the freaking place while it simmers and I try and stir it. Paul always calls my attempts "Dad's Famous Spaghetti Sauce" after this ridiculous infomercial for a cleaning product that we watched in the middle of the night once, where this man is making spaghetti sauce and gets it all over the pristine, white kitchen and the brilliant wife comes in with the cleaning product to show him what an ass he is (as an aside, why are men always portrayed as such idiots in infomercials?). Thankfully our kitchen isn't white, but there
was
tomato everywhere. I really should learn to wear an apron because this is like the fourth hoodie I've ruined over the last couple of months.
The sauce is quite zippy (thank you red pepper flakes!). Vodka sauce is usually thickened with cream, which of course there are vegan alternatives to, but none that I am particularly fond of, so I was excited that this recipe uses almonds to make the sauce creamy. I love using various nuts for this purpose, as it allows me to proclaim "You're gonna love my nuts" to whomever is within earshot, regardless of their eyerolls and groans. By this point you must think that all I do is sit around and watch infomercials and you're partially correct.
Unfortunately, I only had ground almonds and not slivered almonds, so the sauce thickened but wasn't as creamy as it was supposed to be. Next time. It was still positively incredible and went wonderfully with a side of
caesar salad
. Thanks again, Jennifer at
It Ain't Meat, Babe
!