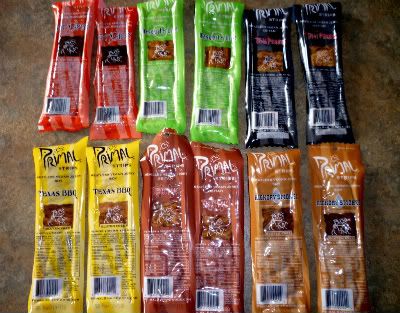 A little while back, the folks at
Primal Spirit Foods
asked me to do a review of their
Primal Strips
(vegan jerky).
This had me both excited and nervous. Excited for the obvious reason of getting to stuff my face and try some new recipes. Nervous because I don't like to be overly critical (I know some of you are rolling your eyes right now, but seriously, I always feel like I'm hurting someone's feelings). Because it's not often that I eat pre-made products, I wasn't sure what to expect and I was scared I wouldn't like them and then have to write a bad review (because I would obviously never lie to you, my dear followers). The thought of that made me very, very uncomfortable.
However, I can never say no to free samples (thanks Primal!) and so I very excitedly agreed to do the review.
The company was generous enough to send me two of each of the six flavours. After ripping open the envelope and then subsequently ripping open the packaging on the first strip I got my grubby little hands on, Paul and I decided we needed to enforce some sort of order and attempted objectivity to our sampling. Because there were two of each flavour, we decided that we would first try each flavour on its own as snacks and then try a few of them as a part of more complete meals.
The six flavours are: Texas BBQ, Thai Peanut, Hickory Smoked, Teriyaki, Hot & Spicy and Mesquite Lime. Here is how we felt about them.
Flavour
Really, the only important criteria when dealing with food is how it tastes. Sure, presentation counts for something, but if it doesn't taste good all other efforts are in vain. And it turns out that all my concerns about not liking them were unwarranted, as we enjoyed each of these flavours. While they were all great, our favourites were Hickory Smoked and Texas BBQ.
Ingredient Variety
As many of you know, me and soy have a love-hate relationship. I eat soy, but I do limit my intake. While some of the Primal options do contain soy isolates (and, I should note, the two that were our flavour-based favourites did) they also offer seitan options that are free of isolated soy, for those following vegan diets where you avoid these isolates (they do, however, list soy sauce as an ingredient so they wouldn't work for those of you who completely avoid soy). Regardless, all of the soy they do use is non-GMO, a necessity when it comes to soy consumption.
Texture
When it comes to cruelty-free versions of standard non-vegan items, texture becomes an important criteria for a lot of people. For me, if I eat a pre-packaged foodstuff it's typically because I miss the flavour of something I ate in my non-vegan days and therefore I want it to be a genuine knock-off. I've never had jerky in my life, but Paul has, so he has taken responsibility for addressing texture. When it comes to texture, the most realistic strips were those that contained the isolated soy (no surprise there - isolated soy protein is used because it is so versatile when mimicing the properties of non-vegan items). The seitan-based strips were less realistic but we hardly consider this a reason to not try them. Like I mentioned earlier, taste trumps all, and all of the flavours taste great. To be completely honest, it's been three years since I've had meat and these days, when the texture of something is too authentic tends to give me the heeby jeebies.
Versatility
These strips work wonderfully for snacking on the go, but they can also add flavour to mealtime. We particularly enjoyed them on sandwiches or in salads.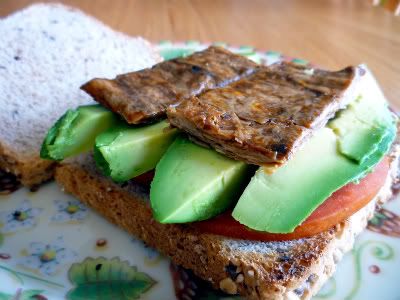 Mesquite Lime Primal Strip on a toasted tomato and
avocado sandwich.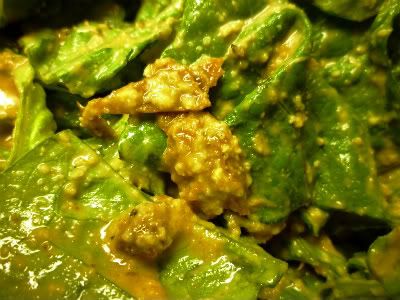 Hickory Smoke Primal Strip chopped up and tossed into a caesar salad. I was never one for bacon in caesar salads, but this makes a wonderful substitute for those of you who enjoyed that flavour in your pre-vegan days.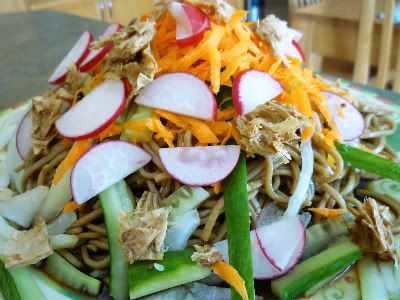 Thai Peanut Primal Strip chopped up and tossed into a sesame salad (soba noodles, radishes, carrot, onions and cucumber tossed with sesame oil and soy sauce and served at room temp)
All in all we were very pleased with the quality of these strips and recommend them particularly to those of you who are on the go and need something to tuck quickly into your pocket as you run about your day. We will definitely be stocking up on them for the many camping excursions we have coming up this summer. They were really great as a part of the meals pictured above, but we almost felt like we were wasting their deliciousness by combining them with other foods. We give them a WIN on all three criteria (taste, ingredient variety and texture) and thus are happy to give Primal Strips the
This is Vegan: Seal of Approval
.
If you try them, I'd love to hear what you think. Check out the
Primal website
for information on how to buy. Enjoy!