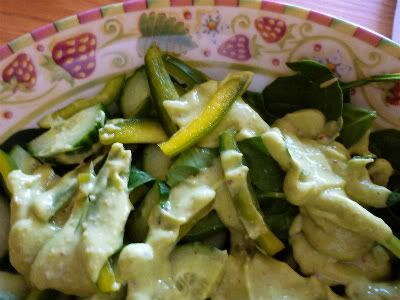 I wore shorts outside yesterday.
Shorts!
This is all but unheard of for the month of March in my neck of the woods. And at 17C it may have been a smidge premature but the second the majority of the snow on our front lawns has melted us Canadians put on shorts and flipflops. And fire up the BBQ. It's just who we are.
I originally had plans to make a curried tofu dish for dinner but come on. There will be plenty of time for that when the mercury remembers what month it is and drops down next week. I dug out a pack of "in case of emergency" tofurky sausages and some severely freezer-burned hot dog buns and took the lighter out to the grill.
Of course, (wo)man cannot live on tofurky alone, so I decided to make a salad. One of my resolutions for 2010 was to incorporate more raw/living foods into my diet and I have admittedly been slacking in this department. It can be difficult to get excited about zucchini pasta during the winter months. Now that the weather's turned it's time to make more of an effort.
This is a very simple salad of baby spinach, cucumber and green bell pepper. The dressing is creamy avocado-cumin, recipe found
here
at
Choosing Raw
.
I didn't even think about it being green, but it was a perfect fit for St. Patrick's Day.
There was plenty of dressing leftover and it served wonderfully as a dip for my mid morning snack of celery sticks and cucumber slices (can you tell I'm trying to drop a few pounds? My usual mid-morning snack usually somehow involves my beloved creamy peanut butter, which has been banished from our cupboards for a little while).