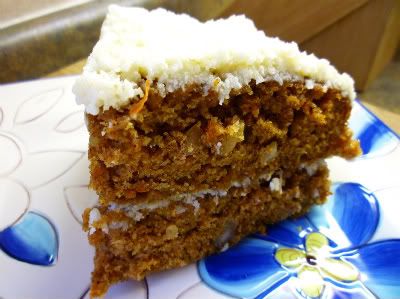 I'm involved in an all-consuming love affair.
With carrot cake.
I have been for years and years. There is just something about it that trumps all other cakes. And it doesn't even matter what kind of carrot cake - what kind of ingredients you add, what kind of icing you use. Equally.
The tried and true way to my heart is through carrot cake. When we were 16 years old Paul showed up on my front porch with homemade carrot cake and I knew then and there that I would marry him someday. I'm so low maintenance...just keep a steady flow of sugar in my veins and I'm all good.
I am not allowed to make carrot cake without purpose. This was a rule that was developed in our home, out of necessity. Without it, it would be me and a fork and really high blood sugar several times a week.
We had some friends over for dinner and board games on Friday night and so I finally had my acceptable excuse to try the recipe for this particular carrot cake, found in
Vegan with a Vengeance
.
So it was obviously good, because I have never had a bad carrot cake in my life. Moist, flavourful, and the surprise macademia nuts strewn about the batter were by far the best part.
The icing was a bit problematic. In my infinite excitement over the prospect of getting to eat carrot cake for dessert, I misread the recipe for the icing and thus had no coconut milk on hand. I had no choice but to use rice milk, which obviously made it runny. So I combined it with extra Earth Balance to up the fat factor that was sorely lacking without coconut milk. It kind of worked, but the icing was still quite runny and thus I get zero points for presentation.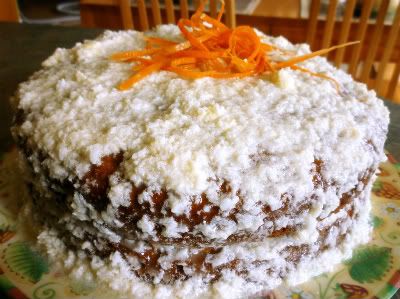 Bottom line is that while we do taste with our eyes, I can get past a hot mess of a cake if it tastes delicious. Which this did. So sloppy presentation aside, this cake is a win and I think you should all make it. I will definitely make it again and when that time comes I will not try and play scientist; I will get out of my pajamas and go buy a can of coconut milk and then it will look as lovely as it tastes.