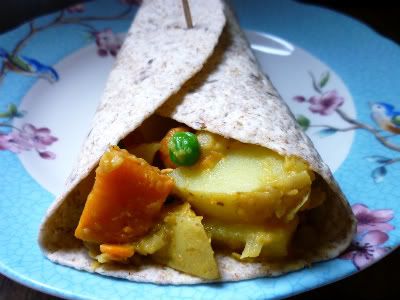 The nice thing about working split shifts is that it prevents me from having to participate in the arduous task of packing lunches. I am simply not creative enough to be able to cram variety into a bento box several days of the week. When I don't have the opportunity to come home for lunch I exist solely on peanut butter and jam sandwiches and the occassional bowl of
Peace Cereal
. Not cool.
Even though I have the luxury of utilizing my full kitchen every noon hour, I still like light meals at lunch. I've always wanted to embrace the European-style of eating the day's major meal at noon instead of in the evening. And theoretically I could do just that. But I can't wrap my head around it. I think it's because I like spending the day looking forward to coming home and eating dinner in my pajamas in front of the TV. How bad is that?! That there, my friends, is why I will never be a size two. I'm obsessed with food and being lazy.
But I digress.
Anyway, my lunches typically consist of sandwiches or wraps of some sort. More often than not they involve leftovers from the night before. And sometimes they are nothing more than a can of baked beans and a slice of toast.
Today's lunch was the adorably named "Aloo-Yoop Potato Curry Wrap" from Sarah Kramer's
2010 Go Vegan calendar
. The recipe was the feature for the month of March, but I just got to it today. Sweet potatoes, yukon gold potatoes, onions and chickpeas. And coconut milk. And spices. It was good. Isn't everything that has coconut milk good?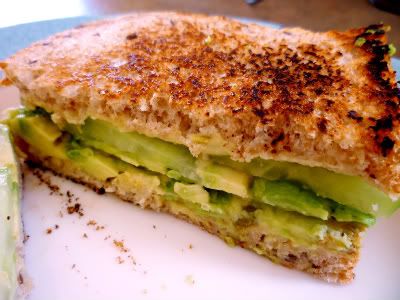 Mmmmm. Another of my lunchtime sandwich faves is of the grilled avo-hummus-cucumber variety. It fills the hole in my heart that was previously reserved for grilled cheese sandwiches.
It's really quite simple. Slather two slices of bread with hummus. Slice up half an avocado and as much cucumber as you like. Put the two slices of bread together. Use your favourite vegan non-butter and slather up each side (or, alternatively, spray each side with a little bit of canola oil). Place in a heated pan and cook until both sides are nicely browned. Easy peasy. Grilled cheese, WHO?!(whom?!).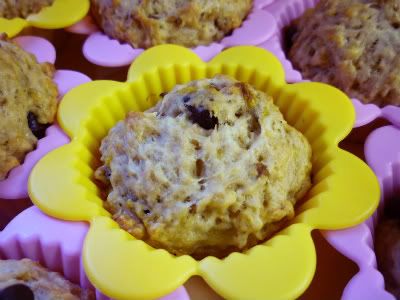 And sometimes I don't want anything lunch-like at all. Sometimes I want nothing more than some fruit, a glass of rice milk and a couple
banana chocolate chip muffins
. Ain't nothing wrong with that.