We went out for a drink or two (or six) in old Montreal on Saturday night so we woke up a smidge hungover. Everyone knows that the cure to a hangover is a hefty breakfast - just ask the busy waitresses hustling and bustling around diners every Sunday morning.
The thing is, when you're vegan, it's not really a matter of falling out of bed and finding whichever diner is closest. It may not be a matter of finding a restaurant at all, as vegan breakfasts are not exactly a mainstream specialty. It's instead usually a matter of waiting until noon, when restaurants start serving lunch meals in conjunction with all day breakfasts. Then and only then you may be able to sneak by with a plate of fries while dreaming about tofu scrambles and fak'n bacon.
The cool thing about being hungover in Montreal is that a vegan breakfast/brunch is not just some vodka-cranberry induced dream - it is reality on Saturday and Sunday mornings!
When our eyes opened on Sunday morning and our bodies were a bit reluctant to move, what got us out of bed was the prospect of vegan brunch at
Aux Vivres
.


We started off with a couple of smoothies: Tropicalia is on the left and Le Creamsicle is on the right
And then came the food.


This is the Le Complet meal - tofu scramble, tempeh bacon, jalapeno cornbread, sweet potato, fresh fruit and a wonderful salad of carrots, lettuce and beets in a creamy dressing.
I still can't believe I was able to eat a real breakfast (i.e. not just a fruit cup) in a restaurant. That hasn't happened to me in well over three years. It was all so delicious, but the cornbread really stood out as the best part of the meal.
Paul followed Le Complet up with another brunch item: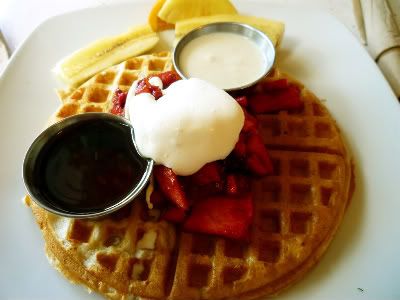 Gaufre Dorees (golden waffles)! Two organic waffles topped with cashew cream, fruit and an organic maple syrup.
I decided to order off the dessert menu:


gateau fauxmage (uncheesecake!)
We were so impressed with
Aux Vivres
that we returned for a second meal, on our last day in Montreal.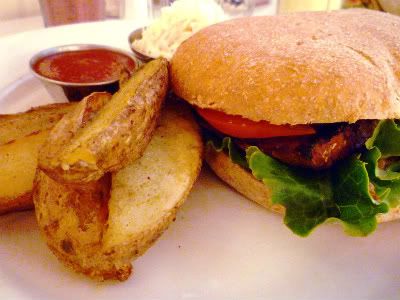 I got the all dressed tempeh burger plate (tempeh burger with caramelized onions, tomatoes, lettuce, pickle and chipotle mayo along with sides of creamy coleslaw and potato wedges with chipotle ketchup).


Paul got chili fries (roasted potatoes topped with house chili and sour cream) and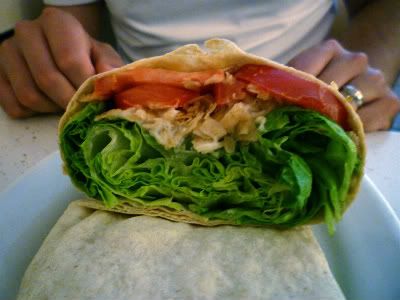 The Aux Vivres BLT made famous via the blogosphere - the "B" is actually coconut! I have no idea how they manage to make coconut taste like bacon but they do and it's positively incredible.
We loved absolutely everything we tried at Aux Vivres and the staff were among the friendliest people we encountered in Montreal. If we had to pick a favourite, the "WIN" goes to the B.L.T. It has to be - the bacon is freaking coconut! How does that even happen!
It goes without saying that this restaurant gets the
This is Vegan: Seal of Approval
. I almost need to invent something even higher than the Seal to give to Aux Vivres. It is the best food I've had in a restaurant in a long, long time.
Aux Vivres
4631 boulevard Saint-Laurent
Montréal, Québec, Canada
(514) 842-3479