I love really bright colours.
I may take it too far, sometimes. I got hot pink bed sheets for one of our spare beds, even though no one ever uses it, just because they made my heart happy. If I ever have a child, boy or girl, that nursery is going to be painted lime green. My lucky socks are rainbow-striped. My kitchen is an alarming shade of yellow and the living room that is connected to it is orange (after we finished painting Paul announced that looking at the kitchen was "like staring directly into the sun").
Maybe it's all in my head, but there is something psychologically liberating about being surrounded by vibrancy. Come on - it's hard to be in a bad mood while staring directly into the sun.
Knowing this about me and seeing the picture posted above, it's not too difficult to understand why I absolutely loved this pasta dish. It tasted great, don't get me wrong, but it's the gorgeous yellow of that rouille that drew me in.
To be honest, I don't really know what a rouille is. Wikipedia says it is a
French sauce that consists of olive oil, breadcrumbs and chili peppers
. Robin Robertson, the author of
Vegan Planet
(the book where you can find this recipe) notes that it's often a roasted red pepper rouille that accompanies pasta. However, her use of yellow peppers that are sauteed on the stove rather than roasted lend a more subtle and light taste to this pasta. And she includes the ingredient that makes all pastas great - artichoke hearts. It's the perfect summertime pasta dish.
And speaking of summertime, I have discovered a new treat for the upcoming heatwaves that I have subsequently given the
This is Vegan: Seal of Approval
:


Coconut milk popsicles that are quite reminiscent of the Popsicle Pete popsicles I devoured as a kid (remember saving the sticks/collecting popsicle pete points and sending away for a prize?!).
Unlike Pete's creations, these are 100% cruelty-free, vegan, organic, soy-free, gluten-free and made with fair-trade cocoa. Check out the
Luna & Larry's Coconut Bliss
website for more information. They are a bit pricy - I picked up a box of four popsicles for $6.00 but they are so good and are guaranteed vegan, plus you can slurp away without worrying about the wages paid to workers during the production process. They are a special treat and not a daily consumption item, so go ahead and splurge a little now and again.
Not going to lie, we already ate all four and it was only yesterday that we bought the box. What is better than eating a chocolately popsicle in your pajamas?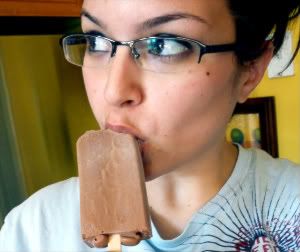 Luckily I am surprisingly more cheap than I am gluttonous, so I did show some restraint with regard to buying a second box. Ooh and look, you can catch a glimpse of one of my crazy yellow walls!