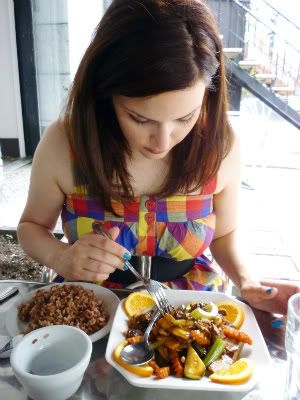 This past weekend we made the six hour trek east to Montreal, Quebec. It was a long weekend and Paul's birthday, and neither of us had ever been before. We grabbed some friends and headed up for a few days of drinks on patios, sightseeing and eating. Oh, the eating.
Montreal is a vegan paradise. I say this, because the city in which I live is not. Veg businesses tend to struggle under the weight of roadhouses and fast food restaurants around these parts.
Montreal does pose some issues for vegans. Most of the mainstream restos and gathering spots we encountered had nothing vegan-friendly, aside from the odd salad. My typical go-to of french fries was even off limits at several places because they could not guarantee that they were beef tallow-free. It could have just been the places we attempted, of course. To be honest I'm not great with navigating cities I've never been to (or cities I have been to, for that matter) and my French is positively abysmal. So, it is highly likely that I just didn't know what the hell I was asking for. Although, some kind locals that I met on the patio at
Chuchai
taught me to say "Je suis végétalienne" ("I am vegan") and that helped for the remainder of our visit.
Montreal makes up for the questionable state of their mainstream french fries by offering up several all-veg, all-the-time options that have resulted in the greatest meals I have ever had in my life. Because of this, I grant the city Vegan-Friendly status (and subsequently the
This is Vegan: Seal of Approval
).
We arrived late Saturday afternoon, positively famished after having eaten nothing more than a tofurky sandwich on the side of the road somewhere in Gananoque. We checked in to our hotel quickly, freshened up a bit and walked on over to
Chuchai
on Saint-Denis. After
The Busy (Happy!) Vegan's post
about this restaurant, I knew it had to be on the list for must-sees on our trip.
The restaurant features the fancier Chuchai next door to Chuch Express, which has the same menu but is a bit more informal and you're allowed to bring your own wine (apparently it is the mother ship calling me home). We had intended to dine at Chuchai but got confused once we got there and ended up on the Chuch patio, which in the end was more than fine with us.
The menu was divided according to main features: "chicken", "duck", "beef", etc. It was kind of a trip, to be honest - we may have panicked a little and thought we were in the wrong restaurant for a minute. But alas, we were comforted by the gentleman behind us telling stories about his vegan travel adventures and knew we were safe.
We implemented our restaurant trial rule of thumb: we each order an appetizer and a meal. They must be four different items and we must share them with each other regardless of how good they may be. Then we have a little taste-test competition to determine who made the best choice.
Unfortunately, Chuchai doesn't have an online menu and I didn't think ahead to write down what exactly we ordered, so bear with my descriptions.
ROUND ONE: APPETIZERS
I ordered what turned out to be delicious samosa-style bites, stuffed with potatoes, veggies and yellow curry:
Paul ordered these spicy fried mushrooms with basil: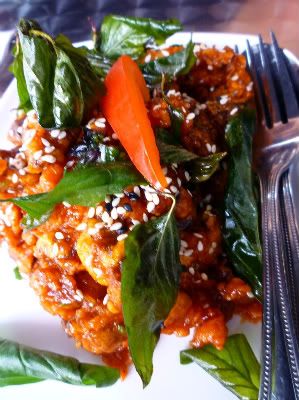 And the Round One Winner is..................
Paul, with his deep-fried mushroom selection
So, I basically thought he was nuts when he selected this app. I was kind of disappointed too because I generally hate mushrooms, unless they are chopped into the tiniest little bits and I can't actually taste them. I don't know what they did to these particular mushrooms because they were not only the better of the two apps, they were probably one of the best things we've eaten. Ever. Not that there was anything wrong with the samosas, they were positively incredible, but these mushrooms were so delicious that I am still salivating over them.
ROUND TWO: MAINS
I ordered one of Chuchai's "chicken" dishes. I have no idea what the base of the "meat" was. I am leaning toward seitan, just based on the texture, but I can't be certain that it wasn't a soy-based product. Perhaps a Montrealer can help me out. Regardless of what it was, it was vegan and full of flavour, tossed together with pineapples, cashews and crunchy vegetables in a sweet sauce: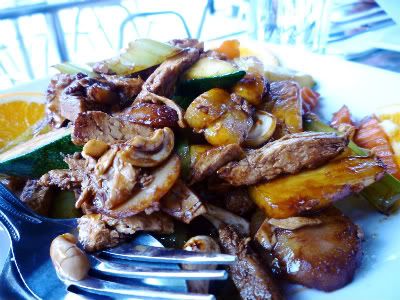 Paul ordered a "duck" dish - red curry duck with vegetables, to be exact. They got the texture right on (we are positive this one was a grain meat), and the creamy coconut flavour of the sauce was amazing: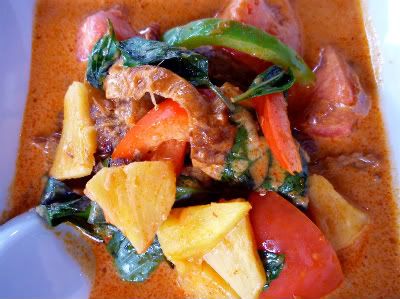 And the Round Two Winner is..................
Mary, with her "chicken" selection
This was an extremely tough call. We love them both and would order them both again in a heartbeat. We gave the win to the "chicken" dish just because the contrast between the spongey "chicken", the sweet pineapple and the crunchy cashews made for a really unique taste experience. I'm the one who implemented the "must share" rule, but I definitely ate quicker than normal and in the end probably got more of it. It was just too good.
Dinner was a bit pricey. It came to $65.00 for all the food pictured above (not including tip), but we didn't mind because we never get to indulge like that around here. And indulge we did - the 1.5 mile hike back to the hotel was a bit painful on that kind of a full stomach. Paul definitely had to lay down for a bit before heading out for drinks with our friends: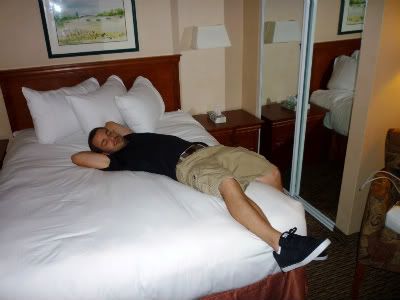 Chuchai/Chuch Express
4092, rue Saint-Denis
Montreal, QC H2W 2M5
(514) 843-4194