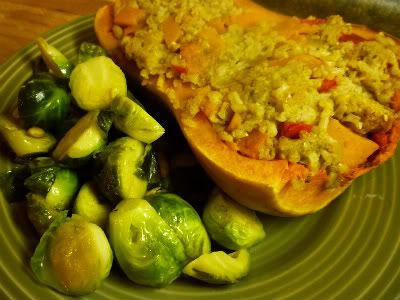 Hello Everyone! After a little bit of a computer vacation following Vegan Mofo 2011, I have officially returned to the blogosphere. Did you miss me? If you didn't, my feelings won't be hurt - I was kind of constantly in your face for a little while there. Honestly?
I
was even getting a little sick of myself and the sound of my own typing. Hopefully you're ready to hear from me again, because here I am!
While in the throes of Mofo I was contacted by vegan cookbook author Nava Atlas who so kindly offered to send me an advanced copy of her newest cookbook,
Vegan Holiday Kitchen
. I was elated! I had already bookmarked it for purchase on November 1st and having it in my greedy little paws a week early was such a treat. Nava has been such a great supporter of This is Vegan for a long time and I want to thank her so much for this wonderful gift!
In case you couldn't tell by my Thanksgiving/Oktoberfest/Halloween posts during Vegan Mofo, Paul and I are holiday fanatics. It doesn't even matter
what
the holiday is. We kind of love them all. We want to finish our basement but we can't bring ourselves to sacrifice the storage space - we need it for all the holiday-themed decorations we've accumulated over the years.
It can be a bit overwhelming to some people, but it's just one of the many quirky things about our relationship.
Being this holiday crazy means that a few months ago when I first heard about a new holiday cookbook put together by two of my favourite vegans (Nava Atlas of
Vegan Express
and
Vegan Soups and Hearty Stews for all Seasons
fame, and vegan blogger extraordinarie Susan Voisin of
Fat Free Vegan
) I started chomping at the bit for its November 1st release date.
Sadly, while my American friends are starting to prepare for Thanksgiving, we here in Canada are currently between holidays. We are, however, still experiencing a beautiful southern Ontario fall and even though it's not Thanksgiving proper, Sunday night dinners present the perfect opportunity for trying some of Nava's autumn-themed recipes.
So, this past weekend after a copious amount of ball and sunshine in the backyard with our little dog, I made this autumn feast.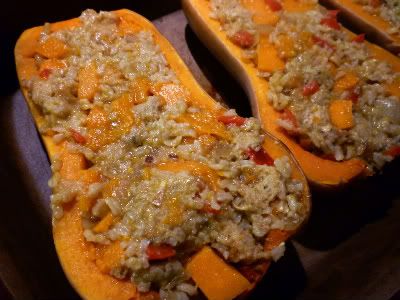 Butternut squashes are my favourite of all the squashes. It's really weird that I'd never served them stuffed until this past weekend. Such a shame! Sadly, I didn't have any of the wild rice needed for the recipe (which is weird because on any given day my cupboard is home to 3940389043 different kinds of rice). I was forced to sub-in plain old brown long-grain rice. Since I was losing some of the visual appeal by not using wild rice, I chopped up half a red bell pepper and tossed it into the mix, just to add a little colour.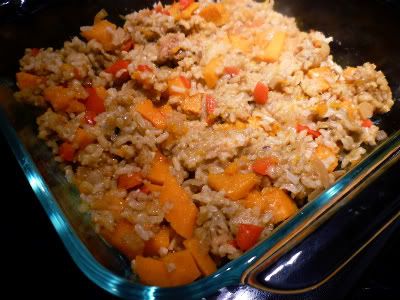 It turns out that I suck at scooping the pulp out of roasted squashes in such a way that preserves little bowls fit for stuffing. Instead, I seem to hack the crap out of them until they are riddled with holes. I started to get the hang of it after awhile and managed to salvage four halves. For the others, I just chopped up the squash and tossed it with the rice, whole wheat bread chunks and the remaining stuffing ingredients and put what couldn't be stuffed into the remaining squashes into a casserole dish for baking. Butternut squash bowls are ideal, but we're not above eating stuffing straight out of a casserole dish if necessary.
I'm on a bit of a Brussels sprouts kick lately. I just can't get enough of them! And this might be my new favourite way to serve them. The recipe for the agave-mustard (a wonderful, cruelty-free alternative to honey-mustard!) sauce is reminiscent of the
Oktoberfest mustard
I love so much during the festival.
Both recipes are amazing and I encourage you to pick up your own copy of
Vegan Holiday Kitchen
, now available! I'm already eyeballing the Christmas section although I'm trying not to get too ahead of myself. Especially since Paul gets ahead of himself enough for the both of us (he proposed decorating the tree while we were taking down the Halloween decorations).
In the meantime, you can find the recipe for the stuffed squashes
here
on Nava's website.