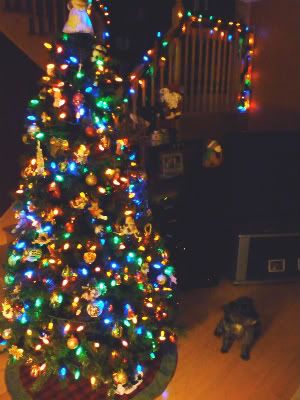 One of our holiday traditions involves a festive vegan feast for two on the Sunday before Christmas. We've been doing it for years now. We are usually really busy with family events on both Christmas Eve and Christmas Day and though our relatives are always kind enough to make sure there are some vegan foods available for us, we love the idea of a full-on traditional (vegan) feast. The weekend before Christmas is usually that best time to do it.
This year is kind of weird, though, and for the first time in our entire twelve year relationship, we have nowhere to be on Christmas Day. So theoretically, we could have our feast then - but we've got plans for a whole new kind of Christmas Day tradition that I will blog about when the time comes!
For now, here is our Sunday-Before-Christmas-Vegan-Feast-For-Two 2011, courtesy of
Vegan Holiday Kitchen
!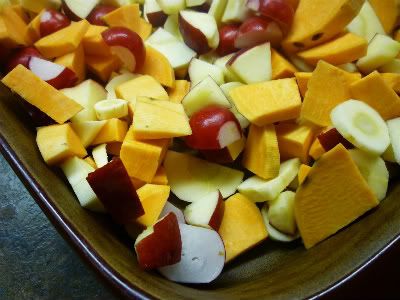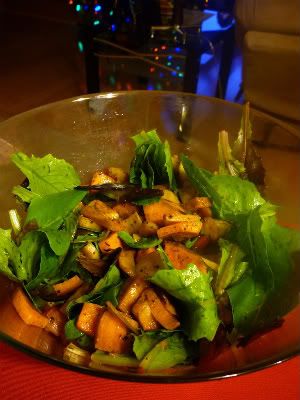 Roasted Root Vegetable Salad - parnsips, radishes and sweet potato with fresh field greens, all tossed in a citrus dressing.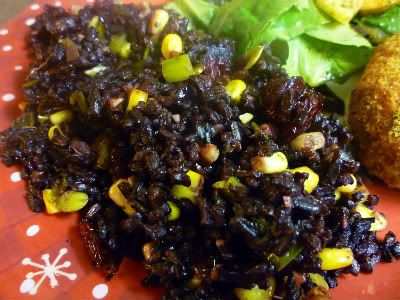 Black rice (which I had never had before, and now absolutely love!) with corn and dried cranberries. Sadly I didn't have as much corn as I thought I did, so visually it's not as festive and colourful as it should be - but you get the idea!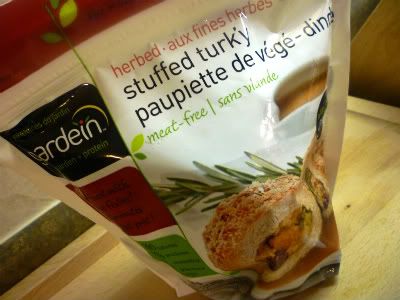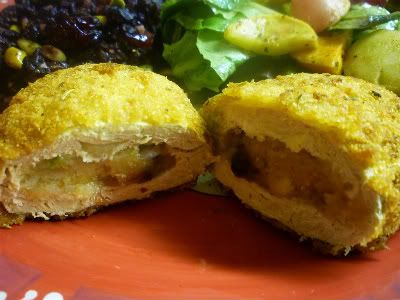 I nearly fell over when I saw that our neighbourhood supermarket was stocking
Gardein Turk'y
. This is, after all, the place that keeps discontinuing my unsweetened almond milks and didn't understand what I was saying when I asked for tempeh. Now, I usually make my own
seitan roasts
but since we had spent a large portion of the day cleaning up after the previous night's
Ugly Xmas
party, I was looking to cut a couple corners this year.
The verdict - awesome! The outside is crispy, the inside moist and the gravy that accompanies it is delicious. It's was the perfect addition to our little feast. It's also great if you happen to be the only vegan attending an omni Christmas dinner, as so often happens, because it comes in individual pieces rather than a whole turk'y, so none will go to waste. Not that any would anyway - I'd imagine these guys make for pretty great Boxing Day turk'y sandwiches.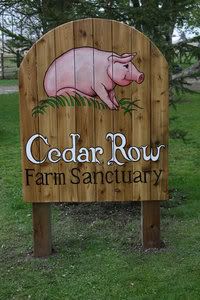 This is a Christmas of firsts, and we have another new tradition to share.
Our dog has had a bit of a rough year, but because she has us to take care of her and make sure she gets what she needs, it is so minimal compared to the plight that millions of farm animals experience each year. We don't know how much time we have left with her, but we do know that so far we have had six wonderful years. Six years in which she has been safe, fed, warm and loved and sadly this is not the case for so many of her animal counterparts out there in the world.
We can't take them all in and financially we can't support them all (although if I ever won the lotto, the first thing cheque I would write would be to various farm sanctuaries - maybe even start my own!). But I do believe that just because you can't do everything doesn't mean that you should do nothing and this Christmas we've decided to sponsor a turkey from
Cedar Row Farm Sanctuary
for all of 2012, and then when Christmas 2012 rolls around, we will sponsor another animal.
If you're looking to start a new Christmas tradition this year, please consider the animals! We chose
Cedar Row
because it's so close to home for us - maybe we can even visit our turkey friend sometime soon! There are plenty of farm sanctuaries and animal organizations in every neck of the woods that are struggling to help the earth's forgotten creatures, especially in these times of economic confusion. If you don't know of any local farm sanctuaries, consider
Farm Sanctuary
and their
adoption program
- I would argue that Farm Sanctuary is the most important resource on veganism and animal advocacy currently in operation, using a more positive platform than many other organizations via education and awareness rather than intimidation and aggression. Their New York location is another place I hope to visit in 2012.
From our home (and our home on the web) to yours, we wish you the merriest of Christmases, filled with love and laughter and all of the creatures you love.