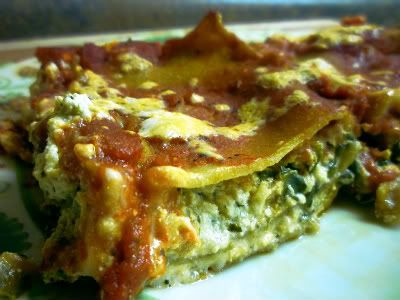 I don't think I've ever had a bad lasagna. As long as it has enough sauce and Daiya (or a non-dairy vegan cheese of your choice), you can't really do wrong by the big L. It's warm. It's hearty. And as long as you have a big enough lasagna dish, it can feed an army.
There are approximately thirty million animal-free lasagna recipes in the vegan world. I'm sure all the variations are delicious in their own way, but sometimes going the traditional route is the most rewarding. Whole wheat noodles. Tofu ricotta. Some spinach. Lots of mozza Daiya.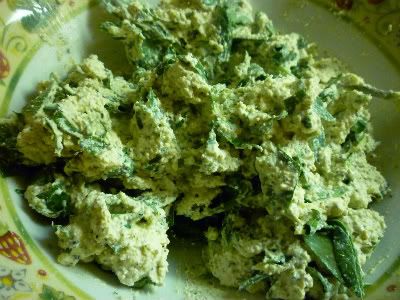 Using tofu in place of ricotta is pretty old school. The vegans of yore didn't have the substitutes that we have today so they got down and dirty with their fingers, crumbling tofu and mixing in spices. Sometimes it's nice to pay homage to our vegan foreparents and do the same. This is 2011, though, and the only work my fingers did involved pressing the button on the food processor.
The recipe comes from
How it All Vegan
, and you can also find it
here
.
P.S. For local readers...

My friend's nine-year-old nephew is leading the local charge against the cruel practice of shark finning, by starting an online petition asking Kitchener city council to ban the sale of shark fins, as well as any products that may contain them. Shark finning is one of the most violent atrocities inflicted upon living creatures and the results of it have no place in our region. As it stands, the practice of shark finning is illegal in Canada but there is no such law prohibiting the sale and purchase of shark fins harvested internationally here in Waterloo Region. However, supporting the industry financially makes us just as culpable in the violence as those who commit the physical acts themselves and it is time that we end our involvement entirely.

You can read about Carleton's mission here and sign his petition here.