Quick and easy mealtime solutions are not the direct subject matter of the
Show Me Vegan
blog, but they really should be. Everything I've tried from there has become part of the perfect mid-week hustle and bustle antidote - especially during this season.
I recently tried the Show Me Vegan
Curried Couscous Salad
.
I love whole grain couscous because it's pretty much the quickest of all the grains to prepare, making it the perfect mid-week carb. Not that the 30 to 40 minutes it takes to prepare brown rice or quinoa is unbearable. It's just that some nights you need your carb fix within five minutes and not a second more.
I will note that my version is not really a curried couscous
salad
at all. This is because I eliminated one key salad ingredient: the oil. Oil is what makes it a salad, of course, and I'm sure it would be delicious with it. I just thought it would be fine without, too. And when it comes to oil, when you
can
do without, you probably should.
The curry and wine vinegar lend plenty flavour on their own, so if you're trying to limit oil when you can like I am (and if you aren't, I suggest checking out
Forks Over Knives
), don't be shy about leaving it out or cutting the 1/2 cup oil down considerably.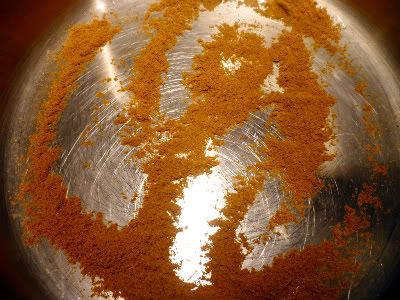 The fact that this meal is done in 10 minutes is my favourite thing about it. My second favourite thing is that the first step involves toasting the curry. I will never understand people's aversion to the smell of curry - it's one of my most favourite scents.
With a side of whole grain pita bread, you've got yourself a pretty decent weeknight meal that can be served warm or at room temperature. It keeps well in the fridge and because it doesn't need to be hot the leftovers will be perfect for your packed lunch the next day.