Three years ago today I launched
This is Vegan
for the very first time!
On December 12, 2008 I had been vegan for about six months and TIV began as a simple ocular response to the question, "What is Vegan?" by featuring pictures of the food I was eating. Since then it has taken on a more traditional blog format with recipes, discussions, book reviews and giveaways. TIV has given me a platform to not only share what I am passionate about, but to interact with others that share that same passion, or at the very least, are curious about it. This blog has opened doors to new experiences and friendships and in that way it has given me so much more than I have given it!
I want to take a quick moment to thank you all for your continued interest, input and support regarding this little project of mine. There are tons of vegan blogs to choose from out there and I'm honoured that you take time out of your day to stop by mine. I hope to continue to provide my response to "What is vegan?" for many years to come!
Now -- I think this celebration calls for a little drinky, don't you?!
I should preface this by saying that I've never had egg nog in my life. Paul has, though. Hard to believe now, but we did celebrate many a Christmas as "pregans", and in those days Paul insisted on buying a small carton of egg nog and a bottle of spiced rum every single year, thinking he would like it and not at
all
remembering the many times in years past when he discovered just how much he
didn't
like it. This went on for years until, of course, he went vegan and now the decision to act impulsively (or, rather,
not
act impulsively) at the grocery checkout is made before he even arrives at the store.
All that doesn't matter now because we've found a perfect egg nog alternative, courtesy of
Vegan Holiday Kitchen
.
Up to this point I've had very little need for vegan nog alternatives because like I said, I've never had interest in the real thing. I've not really looked at the cartoned variety that is available at our supermarket, but I do know that lot of the recipes I've encountered online call for tofu and I'm not super crazy about silken tofu. Especially in a drink.
But then Nava Atlas sent me a copy of her Vegan Holiday Kitchen cookbook, featuring her very own Vegg nog (sans tofu)! It calls for vanilla almond milk and all the traditional eggnog spices (mmm
nutmeg
) as well as cashew butter.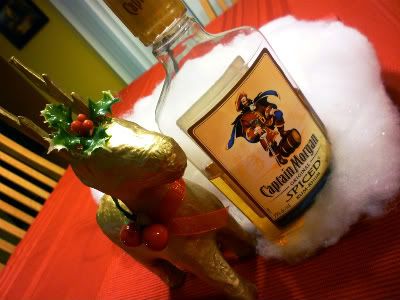 We also employed our good friend the Captain to spice things up even further.
The verdict: Mellow, creamy and delicious!
The mellow was great, but we tend to like things with super strong flavours and we may or may not like the alcoholic portion to be strong, too. So we ended up doubling everything except for the milk.
Much thanks to
Vegan Holiday Kitchen
for our newest Christmas tradition! Now I just need a set of
these
to enjoy it in.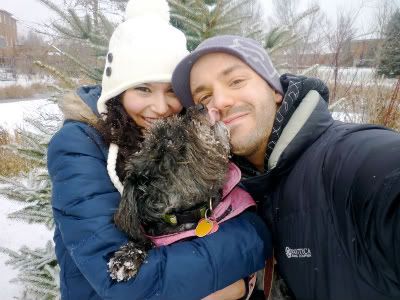 Hard to believe that Christmas is less than two weeks away now!