This past Saturday, Paul and I made the pilgrimage to The Hogtown Vegan in Toronto. The restaurant is just a little over an hour away from our front door, so it shouldn't have taken us as long as it did to make the trek out and try some of their famous diner-style vegan grub. But, we do have a special needs dog at home and leaving her for extended periods of time is something we don't like to do. As such, our visit kept getting postponed.
All of our Toronto dining is done in the company of my vegan cousins, one of which is moving overseas next month, so we wanted to make sure our first Hogtown visit happened while she was still here. We made sure the pup was okay for a couple hours and headed to Toronto on the only free weekend we've had in months.
Located at 834 Bloor Street West, The Hogtown Vegan is Toronto's answer to the traditional "down home" comfort food diner, with the added twist of completely animal-free food. We visited a similar establishment called Doomie's in Los Angeles last year and have been dying for something like it closer to home.
I love how many vegan-friendly restaurants have been popping up in southwestern Ontario in the last few years. I get so giddy every time I hear about a new one. The more the merrier, I say. They're serving up their wheatgrass shots and collard wraps and tempeh sandwiches and we love them so very much. But what's missing from the landscape is an army of greasy spoon-esque establishments that cater to those of us vegans who love a little junk food now and again.
Hogtown is one such place. A place to stay vegan but indulge in a bit of that brown, fried, homestyle cooking that you grew up on.
Driving from Kitchener to Toronto takes about an hour, which means that we had about an hour to establish a game plan for Hogtown. What we were going to do. What ordering mistakes we didn't want to make. We don't get out to the city much, people. This is serious business. When we were planning our Montreal and L.A. trips in years past we would literally spend hours pouring over menus weeks before our trips were even set to begin. We like to eat and we take vegan dining very, very seriously.
Luckily, our party was down for sampling a couple appetizers as a group, so even though I scrapped appetizers so I could "save room" for the main course, I got to try a couple anyway!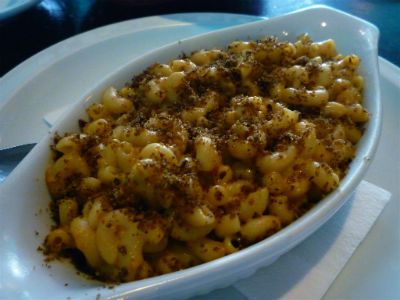 We started with the Mac'N'Cheese.
From the menu: Best vegan mac'n'cheese ever, baked and topped with breadcrumbs.
You can't go wrong with mac'n'cheese. Ever. The blogosphere has had mixed reviews about Hogtown's take on it, but I am happy to announce that we loved it and would definitely order it again. It even leaves some of that gooey orangey residue on your plate - just like when you were a kid!
We also got a basket of Chili "Cheese" Fries.
From the menu: Fresh-cut fries with black beans, nacho "cheese" sauce, guacamole, scallions and sunflower sour cream.
So good!
For his entree, Paul got the Pulled Unpork Sandwich.
From the menu: Pulled TVP unpork cooked in our house-made BBQ sauce, topped with creamy coleslaw on a sesame seed bun.
This is a terrible picture that does the sandwich no justice! I hate messing around with a camera in restaurants so I always end up with the worst photos. My apologies!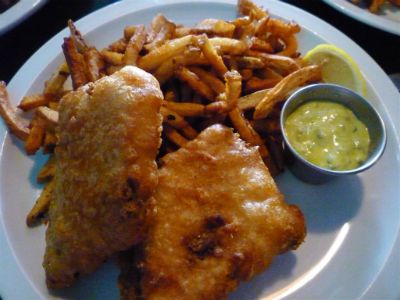 My original game plan involved ordering something totally different than what I ended up with. But then I saw the Phish and Chips option and I proceeded to freak out a little bit/a lot of bit. There's not much I miss as a vegan, because it's fairly easy to find vegan versions of just about everything. Not restaurant-style fish and chips, though. Before Saturday, I had yet to come across any. It was once my favourite menu option, and I hadn't had anything like it in well over five years.
From the menu: Beer-battered tempeh "fish" sticks served with house-made tartar sauce and fresh cut fries.
First of all, I can't believe they even have vegan fish and chips and second of all I can't believe how freaking authentic they are! Complete with tartar sauce, they remind me of many a beer-battered fish on many a pub night.
And finally, Paul and I shared an order of the Unchicken and Waffles because they are what Hogtown is most famous for and I've drooled over way too many blog posts about them to not try them. Even though the buttons on my jean skirt were already dangerously close to popping off when I was but halfway through the Phish and Chips, I eagerly packed away my half!
From the menu: Breaded, deep-fried soy chicken on fluffy waffles, smothered in maple butter, served with collard greens and sweet potato mash.
It was absolutely amazing. Worth the wait and deserving of all the blog praise it has received. It will make a believer out of your favourite omni!
Our visit to Toronto was very brief because we needed to get home to our little Dora, but it was well worth the drive. I'm simultaneously excited and relieved that Hogtown is an hour away from us - I'm excited because, unlike Doomie's, some of the best vegan food I've had is only an hour away from me and I'm relieved because it is not any closer than that. I have control issues when it comes to food. In that I have none.
The Hogtown Vegan
834 Bloor Street West
Toronto, ON
416-901-9799
** CASH ONLY **